Pelco Sarix™ Enhanced IP Cameras Deliver Outstanding Performance in Any Lighting Environment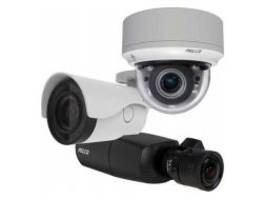 Engineered for Demanding Mainstream Applications at Competitive Price Points
Las Vegas, NV (April 5, 2017) – Pelco by Schneider Electric, a global leader in surveillance and security products and technologies, is showcasing the company's impressive line-up of Sarix™ Enhanced IP Cameras in fixed bullet, box and dome configurations. Designed for demanding mainstream applications, Sarix Enhanced IP Cameras feature Pelco's exclusive SureVision™ 3.0 technology that delivers exceptional Wide Dynamic Range (WDR) performance for the most challenging lighting environments.
"Our line of Sarix Enhanced IP Cameras is the ideal IP imaging solution for mainstream applications where nothing but the best will do," said Diane Feliciano, VP, Global Marketing, Pelco by Schneider Electric. "Available in a broad selection of form factors, they are right for virtually any application and lighting environment at competitive price points."
Sarix Enhanced IP Cameras feature Pelco's exclusive SureVision 3.0 technology to capture superior images in difficult lighting conditions where highly contrasted lighting sources exist within the same scene. An enhanced WDR of 130 dB, advanced low light performance with full color down to 0.05 lux, anti-bloom technology, 3D noise filtering, enhanced tone mapping for color accuracy, and more ensure excellent performance for myriad mainstream applications.
Sarix Enhanced IP Cameras also feature preloaded analytics on every model, including: abandoned object, intrusion detection, camera sabotage, wrong direction, loitering detection, object counting, object removal, and stopped vehicle. The analytics can be remotely enabled and configured, and are compatible with Pelco VMS as well as thirdparty VMS partners that support Pelco's open API.
Additional key features include: high frame rate operation of up to 60 fps (or 30 fps with WDR enabled) to capture fast-moving events at full resolution; and optional IR illumination which enables operation in complete darkness (0.0 lux) at distances up to 30 meters (approximately 100 ft.).
For more information visit http://securityinsights.pelco.com/pelco-showcaseslatest-technology-innovations-and-strategic-applications.
About Pelco by Schneider Electric
Pelco by Schneider Electric is a global leader in professional video surveillance and security system products and technologies with a local presence in 136 countries and over 4000 integration partners worldwide. Our personal engagement with customers, resellers and technology partners drives the development and deployment of surveillance and security solutions with meaningful innovation. It's the foundation that Pelco has built its brand upon for over 25 years.
More from Electronic Components & Devices