Oil and Gas Specialist Moves into 5-Axis Machining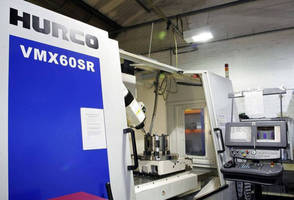 With a BP quality award hanging on its office wall alongside a platinum award from Cameron Subsea Systems confirming 24 consecutive months' delivery of zero defect products, Blantyre-based Quadscot Precision Engineers is a leading Scottish subcontractor serving the offshore oil and gas sector.

For its prismatic machining requirements, until recently the company relied on 3-axis vertical machining centres (VMCs) including a Hurco VMX1 installed in 2008 and a 12-year-old VMX42 with Nikken 4th axis.

As part of an on-going investment programme in new plant, two further, larger VMCs were purchased from the same supplier at the beginning of 2010. The objective was to bring the subcontractor's milling capacity more into line with its 1.5 metre by 500 mm diameter turning capability.

One of the new Hurcos, Quadscot's first 5-axis model, was a VMX60SR. It has a 1,525 x 660 x 610 mm working volume, a horizontal rotary C-axis table and a ± 92 degree B-axis head that allows the 36 kW, 40-taper spindle to be positioned within a program anywhere between vertical and horizontal. Renishaw tool and part probing have been fitted to speed set-ups.

Not only does the machine meet the size requirement stipulated by production director, Jim Smith, but it also allows multi-sided parts and those of complex geometry to be produced more accurately and cost-effectively.

Mr Smith commented, "Some components that previously needed three separate set-ups for milling operations can be produced in one hit on the VMX60SR.

"The faster cycles and reduced handling result in production cost savings of around 30 per cent for some bigger parts. Our customers therefore benefit from more competitive prices and faster turnaround.

"Moreover, tolerances of typically ± 25 microns are easier to hold when not repeatedly refixturing heavy components in different axes; and fixture costs are also reduced.

The other new Hurco machining centre is a VMX50-50t 4-axis model with a 22 kW / 8,000 rpm / 353 Nm CAT50 spindle, the most powerful that the manufacturer offers in its VMX range. The machine also has large axis travels of 1,270 x 660 x 610 mm and was supplied with 3D mould software within the Hurco WinMax programming suite running in the proprietary twin-screen control system.

Jim Smith's partner, sales director Billy Hepburn, said, "A lot of our customers use high performance materials such as Super Duplex, Inconel and Toughmet, which are challenging to machine.

"Having plant like the 50-50t allows us to be more cost-effective when machining tough and exotic metals. The accuracy is there too - we frequently mill parts using 4-axis simultaneous movements to 25 microns tolerance."

The 44-employee subcontractor was set up 22 years ago by a team of skilled engineers and toolmakers with a wealth of experience in precision CNC subcontract machining. Production of subsea Christmas tree parts, down-hole tools and wellhead equipment are particular specialisms.

A highly focussed approach to customer service has been fundamental to the development of the company, along with careful selection and purchase of CNC milling and turning machines. Today, it operates from an 8,500 sq. ft. factory on the Blantyre Industrial Estate, a few miles south-east of Glasgow.

The company is a long-time user of Hurco equipment. Indeed, the first VMC it bought back in 1990 was one of the supplier's KM3P knee mills with Ultimax II twin-screen CNC. Even in those days, the control and programming software was well ahead of its time, allowing Quadscot's machine operators to program parts easily without needing to know or even learn G-codes. Any programming mistakes were picked up from the graphic screen before putting tool to metal.

Jim Smith added, "We have stayed with Hurco equipment over the years largely because of the flexibility of the control system, which has always been much faster than others on the market. That is important to us, as all of our programming is done on the shop floor.

"We looked at a number of 5-axis machines before buying the VMX60SR and even considered a horizontal-spindle, twin-pallet machining centre at one point.

"However, we opted again for the Hurcos due to the combination of the user-friendly control and rigidity of construction, plus the versatility and robustness of the B-axis head design in the case of the 5-axis machine."

Hurco Europe Ltd., Halifax Road, Cressex Business Park, High Wycombe, Bucks, HP12 3SN.

Tel: 01494 442222.
Fax: 01494 443350.

E-mail: sales@hurco.co.uk

Web site: www.hurco.co.uk

Contact: David Waghorn, Managing Director.

Quadscot Precision Engineers Ltd.

Block 2, Unit 8, First Road, Blantyre Industrial Estate,

Blantyre, Glasgow, G72 0ND.

Tel: 01698 712712. Fax: 01698 712666.

E-mail: jim@quadscot.co.uk

Web site: www.quadscot.co.uk

Contact: Jim Smith, Production Director.


More from Software