Now Offering the Double Pedestal Broadcaster Displays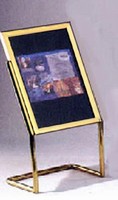 For over 30 years, Aarco Products has been the leading source for visual display products (bulletin boards, marker boards, combination conference cabinets) with a full line of commercial products. A complete line of Point of Purchase (POP) retail products include crowd control stanchions and barriers, and hospitality products for food service and restaurants. Architectural display cases; directory boards, enclosed display boards for interior and outdoor applications are available to architects' custom specs. Classroom and business presentation boards features include: cork, porcelain, changeable letters and write on boards. Aarco has expanded our product line to include a full range of hospitality products introducing the Double Pedestal Display.

Free standing display and menu holders include the Double Pedestal Broadcaster. The Double Pedestal is perfect for food and restaurant industries and is lightweight and easy to transport. Display menus, posters and art work or choose our unit complete with a neon markerboard to create your own menu or sign. Features include finishes of chrome brass or black, acrylic windows, weather resistant hardware, removeable panel without tools and it assembles easily. Also available in our new line are: Single Pedestal Broadcaster, Neon Markerboard, and Menu Holders. Also Stanchion Barrier Form-A-Line Retractable Belt System, and Traditional Rope Style posts for crowd and pedestrian control.

In a time when many companies are selling products that are imported from far away places, Aarco has increased all its domestic manufacturing facilities. This protects the quality of their product and maintains fast lead times that are often faster than other manufacturers. As always our products are manufactured to the highest standard. Whether you need a markerboard for your office or classroom, a menu board or display stand for your restaurant or a luggage cart for your hotel lobby, Aarco Products will provide the best product at fair and competitive prices.

Additionally if your needs require customization, our specialty department will assist you in designing the product that is right for you. We welcome the challenge of making you a lifetime satisfied customer. For a fast friendly response to your requirements, call Toll Free 1-800-246-6038 or Fax 631-924-5843. See us on the web at www.aarcoproducts.com or email us at inquire@aarcoproducts.com.

More from Agricultural & Farming Products