Norton Abrasives Launches Expanded Range of Norton/ Merit Brand Products for the Metal Fabrication Market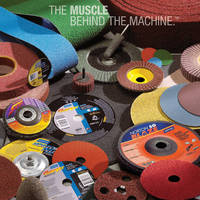 WORCESTER, MA, USA - Saint-Gobain Abrasives - Norton, the world's largest abrasives manufacturer and leader in metal fabrication abrasive products for over 125 years, has announced the launch of an aggressive new product expansion program for the metal fabricating industry. In conjunction, Norton will produce a new print and online catalog, including the industry's most comprehensive new product, application and selection information, to help metal fabricating end-users and distributors optimize their abrasive operations.

"Norton will be rolling out hundreds of new SKUs over the next 12 months that run the gamut from the industry's highest performance product innovations with lowest total cost to excellent performance products at industry competitive prices, providing a full range of solutions for all levels of metal fabricators," said Mr. David Long, Director of Marketing, Strategy and Marketing Information at Saint-Gobain Abrasives.

Numerous new Norton and Merit brand products will be showcased at FABTECH, the metal fabricating industry's main event, on November 2-4, 2010 in Atlanta, GA. At the show, Norton will demonstrate how their full range of products that provide the "Muscle Behind the Machine" on right angle grinders, random orbital sanders, pneumatic die grinders and large diameter cut-off machines, in BEST, BETTER and GOOD performance categories.

12-Month Product Introduction
Norton and Merit brand abrasives for right angle grinding applications will be initially introduced, including a full spectrum of innovative products designed to provide maximum performance at all price levels. Products will include an entirely new flap disc and fiber disc offering in Norton SG Blaze Plus in the BEST tier, NorZon BlueFire in the BETTER tier and the all-new Merit Metal GOOD line for end users that are looking for excellent performance at a great price level. Norton / Merit flap discs are engineered for applications ranging from stock removal to blending to finishing all with one wheel. Norton/Merit fiber discs feature a full resin bond system with heavy-duty fiber backing for increased strength, durability and tear resistance.

Norton will also be expanding their product offerings within the depressed center wheels category for right angle grinding and cut-off applications. The Norton line of depressed center grinding, notching and RightCut wheels has products for every right angle grinder application: NorZon Plus provides the industry's BEST cut rate and wheel life, providing the highest productivity; Charger Plus gives a BETTER performance/price combination and Gemini's GOOD aluminum oxide performance at a competitive price level. A full range of non-woven depressed center wheels and discs will also be featured, for expanding the applications of the right angle grinder into the cleaning, finishing and polishing categories.

About Saint-Gobain

Norton is a brand of Saint-Gobain. With more than 1,000 subsidiaries in 59 countries, Saint-Gobain (http://www.saint-gobain.com/en) is the world's largest manufacturer and distributor of building materials, and a leader in the production of high performance materials, glass containers and abrasives. Founded in 1665 and headquartered in Paris, Saint-Gobain had worldwide sales of $52.7 billion in 2009 and employs approximately 209,000 people. In the United States and Canada, Saint-Gobain employs approximately 19,000 people, and had sales of $6.8 billion in 2009. The company has approximately 150 manufacturing plants and more than 150 distribution outlets throughout North America.


More from Electrical Equipment & Systems