Nordfab Introduces New Sealed Duct System Components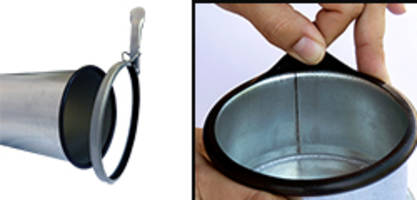 February 2021 - Thomasville, NC, USA -- Nordfab Ducting is now offering a new easier-to-use and better sealing gasket as part of its QFS sealed duct system used for oil mists, cutting fluids, vapors, and other wet contaminants collection. Nordfab's Quick-Fit Ducting clamps together, requiring a fraction of the installation time required for many other types of ducting, and eliminates welding and flange assembly.  The Quick-Fit sealed (QFS) duct system incorporates leak-proof seals wherever the duct is connected (clamped together), caulking wherever the duct seams need extra protection to prevent leakage, and components precision manufactured to tight tolerances.
The new QFS Gasket, used at each duct connection, snugly wraps around the Quick-Fit® rolled edge of Nordfab's clamp-together ducting for a secure fit that does not require adhesives and is very easy to apply. The gasket is non-directional, allowing quick assembly of components.
Nordfab is also now using a superior caulk for QFS duct components. The new caulk is marine grade and highly resistant to UV exposure.
The sealed duct system reduces sources of leakage, decreasing health risks potentially created by slippery floors and contaminated workspaces.
For More Information Contact:
Lynda Smith, Marketing Communications Manager
email: [email protected]
phone: +1-336-821-0840
Nordfab Ducting LLC
150 Transit Avenue
Thomasville NC 27360
+1-800-532-0830
www.nordfab.com/en-us/
QFS Sealed Ducting : https://www.nordfab.com/en-us/applications/sealed-duct-for-oil-mist-applications