NIS-300 Digital Control Console Successfully Passed CE and FCC Compliance Testing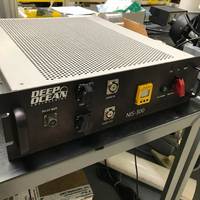 October 13, 2017 - Silicon Valley, CA - Deep Ocean is proud to announce that the NIS-300 digital control console has successfully passed the CE and FCC qualifications. The digital control console's design has fewer connectors and reduced weight. The unit contains real-time diagnostic and can be monitored, serviced and upgraded remotely. Therefore, the cost of ownership is greatly reduced. It is compatible with new and existing Phantom Firefly and P-150 Systems.
Some features include a digital pilot box, an integrated DVR with audio annotation, optional USB gamepad control support, text, graphic, video, overlay, and universal power supply (90-285 VAC 50/60 Hz Single Phase).
For more information, visit www.deepocean.com.
More from Machinery & Machining Tools