Nilfisk Certified Industrial Vacuum Finalist in Process Expo 2017 Innovations Showcase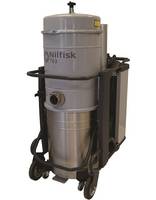 Morgantown, Pa. - September 14, 2017 - Nilfisk Inc. is pleased to announce that its new T63 certified Class II, Division 2 vacuum for combustible dust has been selected as a semi-finalist in Process Expo's 2017 Innovations Showcase (Chicago, IL). The certified industrial vacuum will compete in the Bakery, Grains, Seed and Snacks and Confectionary, Candy, Sweets categories for Process Expo's most innovative new product award.
On Thursday, September 21, Nilfisk's Senior District Sales Representative, Andrew Luessenhop will speak about the importance of combustible dust housekeeping and equipment in the baking and confectionary industries in two separate presentations at 10:50 am and 11:50 am in the Innovations Showcase Theater
For more information on combustible dust mitigation and Nilfisk industrial vacuums, please visit Process Expo 2017 Booth #1567 or www.NilfiskIndustrialVacuums.com.
About Nilfisk, Inc.
Nilfisk Industrial Vacuums, a division of Nilfisk, Inc., is one of the largest providers of cleaning equipment in North America. From its Morgantown, Pennsylvania, headquarters, Nilfisk Industrial Vacuums supports a complete line of industrial vacuums with exceptionally efficient, multi-stage filtration systems and userfriendly features. Nilfisk vacuums play a critical role in thousands of manufacturing facilities and industrial processes across North America. Supported by a direct sales force and an extensive dealer network, Nilfisk Industrial Vacuums helps customers solve a variety of cleaning challenges, including combustible dust, general maintenance, overhead cleaning, abatement, process integration, laboratory/cleanroom control, and more. For more information, visit www.nilfiskindustrialvacuums.com.
Contact:
Sarah Metz
Marketing Communications Assistant
Nilfisk Industrial Vacuums
(610) 913-5349
Nilfisk, Inc.
Industrial Vacuum Division
740 Hemlock Rd., Suite 100
Morgantown, PA 19543
Tel.: 1-800-NILFISK
Fax: (888) 624-8141
e-mail: questions@nilfisk.com
More from Fasteners & Hardware