Nicrocraft™Cirrus® SR22 Heat Exchanger and Muffler - FAA-PMA Approved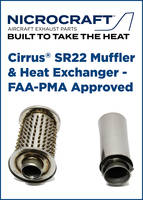 (Oklahoma City, OK) Wall Colmonoy Aerobraze Oklahoma City is pleased to announce FAA-PMA approval for Nicrocraft™ Cirrus® SR22 Heat Exchanger and Muffler.
The NicrocraftTM Cirrus® SR22 Heat Exchanger and Muffler are both constructed of heat resistant 321 stainless steel with Inconel alloy baffles. This provides maximum reliability, corrosion resistance, and service life.
"These new products show our commitment to the Cirrus Service Centers as well as the operators around the globe", explained Jim Lockbaum, Business Development Manager for Nicrocraft. "The best news is we don't require a core return, saving the expense and hassle of boxing up mufflers to send back. We have them in stock now, ready to ship the same day you call or email us."
All Nicrocraft™ Heat Exchangers and Mufflers are manufactured in Oklahoma City, Oklahoma at Wall Colmonoy's state-of-the-art facility. FAA-DER and FAA-DMIRs are on staff, plus a full suite of fabrication equipment.
Each part is made to the highest quality standards and backed by a full 12-month, unlimited hours warranty. Quality Assurance Certifications include AS9100 Rev D, ISO 9001:2015, AWS D17.1/D17.1M:2017 (welding), and FAA Repair Station #BG2R715K, FAA-DER – Exhaust Systems.
About Nicrocraft™
Since 1968, Wall Colmonoy has been the leader in Aircraft Exhaust Systems - a reputation for quality, reliability and safety. Wall Colmonoy Aerobraze Oklahoma City manufactures and overhauls Nicrocraft™ Aircraft Exhaust Systems. Individual exhaust components and complete systems are available for most single and twin engine aircraft. Both newly manufactured and overhauled with FAA – PMA / STC approved parts, Nicrocraft™ exhaust components can be found on Cessna, Cirrus, Robinson, Beechcraft, Mooney, Piper and other aircraft. Wall Colmonoy is the supplier of choice to the OEMs, and all mufflers are built to the latest original equipment specifications.
More information can be found at: www.nicrocraft.com.
Contact:
Marketing at Oklahoma City