Nextremity Solutions, Inc. Announces Success of Initial Cases Using the InCore® Lapidus Single-Use Sterile Kit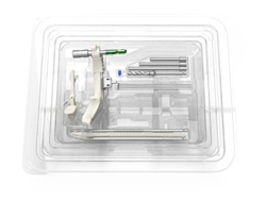 New tri-planar Lapidus single-use sterile kit developed as a disposble option for health systems.
WARSAW, IND. (PRWEB) NOVEMBER 22, 2019 - Nextremity Solutions, Inc., a strategic commercialization organization with a focus on the musculoskeletal space, located in "The Orthopedic Capital of the World," Warsaw, Ind., recently completed the first several cases using its single-use sterile version of the already successful InCore Lapidus System.
The InCore Lapidus System is a three-part construct intended for internal fixation for First Metatarsocuneiform Arthrodesis (also known as Lapidus or First Tarsometatarsal Fusion). The system allows for tri-planar correction through the use of a Targeting Guide that is intended to aid and stabilize angular/rotational correction in all three planes (transverse, sagittal and frontal plane).
Michael S. Lee, DPM of Clive, Iowa stated, "The single-use kit ensures the instruments are always clean and ready for my cases and every drill bit is new and sharp. These single-use kits are a significant advancement for the InCore Lapidus System that will grow in appreciation by health systems that are looking to improve operational efficiencies. I look forward to having these in the OR every week."
A single-use sterile version of the reusable system was developed as a disposable option for health systems that desire to eliminate the need to sterilize a reusable set and have the ability to use brand new instrumentation with every procedure.
"The single-use kit is a very efficient system for the ASC where I practice and certainly saves our staff time by not having to prepare and then clean typical reusable instruments," commented John G. Anderson, MD of Grand Rapids, Michigan.
Nicholas Dodson, DPM of Valdosta, Georgia said, "The new InCore single-use instrument kit and targeting guide performed exactly like the reusable instruments that I have been using. The transition to the single-use kit was seamless and the quality of the instruments and targeting guide was indistinguishable from the reusable set."
The single-use sterile version of the InCore Lapidus System is currently in a limited commercial launch.
To learn more about this and other extremity musculoskeletal products developed by Nextremity Solutions, visit http://www.nextremity.com.
About Nextremity Solutions, Inc.
Nextremity Solutions, Inc. is a privately held strategic commercialization organization with a focus on the extremity musculoskeletal space, offering innovative solutions and Revenue Ready® products for various extremity musculoskeletal applications and for the benefit of our industry partners. The Company's procedure-ready, sterile implant systems include uniquely precise, proprietary technology designed to achieve repeatable and superior clinical outcomes.
For further information, visit http://www.nextremitysolutions.com or call Dave Temple, Executive Director of Marketing & Communications at 574-635-3022.
Contact Information
Dave Temple
Nextremity Solutions, Inc.
http://www.nextremity.com
+1 574-635-3022
More from Electronic Components & Devices