New Waste Water Lifting Units at the ISH 2011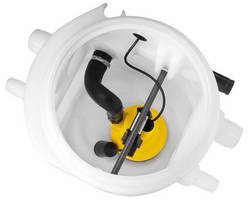 KSB Aktiengesellschaft, Frankenthal will showcase a novelty at the approaching ISH in Frankfurt: a new generation of their Ama-Drainer-Box waste water lifting units. These units are designed to automatically drain areas of buildings and premises below the sewer backwash level. This includes the disposal of domestic waste water from washing machines, washbasins, sinks, showers or bathtubs.

The new lifting units are also suited for the disposal of highly contaminated or fibre-containing waste water from industrial applications, such as laundries or common washing facilities with several washing machines or dishwashers. They can also be used as overflow protection for rainwater harvesting systems or inlet tanks of fire-fighting systems.

Single-pump units can pump up to 35 m³/h, dual-pump units up to 46 m³/h. The maximum head is 21 m for single-pump units and 24 m for dual-pump units. The lifting units are designed for a fluid temperature of up to 40 °C in continuous operation; for a maximum of three minutes they can handle fluid temperatures of up to 90 °C. The integrated swing check valve prevents drainage of the discharge line after the pump has been switched off.

The collecting tanks made of impact-resistant plastic can accommodate a broad range of submersible motor pumps. The unit's inlet and vent lines are offset by 180° for connection on either side and have graded diameters to provide for smooth connection to the local facilities. Like its predecessor, Ama-Drainer-Box comes as either above-floor or underfloor version. Both these installation variants are available as single-pump or dual-pump units. KSB also has a variant for aggressive or oil-containing waste water on offer.

More from Electrical Equipment & Systems