New Solderability Test System Enhances ACE Selective Soldering Process Development Lab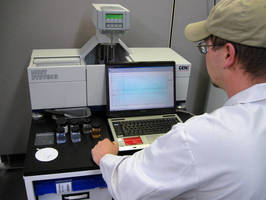 Spokane, Washington, USA - ACE Production Technologies, Inc. has announced the addition of a MUST III, Solderability Test System to the company's newly-formed Selective Soldering Process Development Lab. ACE selected GEN3 Systems MUSTIII wetting balance technology based upon many factors including ease of use, flexible application, industry recognition and company technical support.

In making the announcement, Alan Cable, President and CEO, said, "An essential part of the selective soldering process development is the understanding of what can be expected of various fluxes, solders and their characteristics under different profiles. Our ability to identify how a specific combination of parts, board material, flux and solder with interact gives a short cut to developing the most efficient process profile and a prediction of solder quality. This new system is a key addition to our customer service laboratory."

The GEN3 Systems MUST III System is a wetting balance testing system capable of testing to all relevant solder standards including ICE, MIL-STD, IPO/EYE/JADE, etc. The MUST System 3 measures the solderability of a printed circuit board and/or component's metallic terminations by documenting the wetting curve of the unit under test. The MUST System 3 is appropriate for testing all devices including multi-leaded components as well as SMT and BGA devices.

ACE's recently-opened lab is fully equipped with the latest soldering equipment as well as process development tools such as the MUST wetting balance tester, x-ray equipment, thermal sensors, monitors, and more. The process Lab is equipped with all of ACE's selective soldering tools, including traveling mini-wave systems, advanced solder fountains, spray and drop-jet fluxing systems, the new LTS 200 Lead Tinning system and a nitrogen generator.

ACE Production Technologies is a designer and builder of simple, affordable selective soldering systems suitable for lead-free electronics assembly. ACE's line of rugged, reliable selective soldering systems includes the KISS 101, KISS-102, KISS-103, and the KISS-104 models. All of these flexible systems feature lead-free compatible solder pots and are ideal for low to medium volume assembly, prototyping, and rework, post-reflow offline assembly, and other soldering applications such as odd-form devices. For more information about A.C.E., including sales and technical, contact ACE Production Technologies, INC., 3010 N. Industrial Park, 1st Street, Spokane Valley, WA 99216; Tel. 509-924-4898, e-mail sales@ace-protech.com; www.ace-protech.com.


More from Fasteners & Hardware