New Rental Generators from Cummins Power Generation are Cleaner, Quieter to Meet Emissions Standards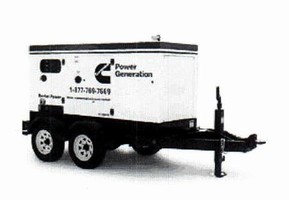 MINNEAPOLIS - New low-emissions rental generator sets from Cummins Power Generation offer cleaner, quieter operation to meet EPA emissions standards. Intended for temporary power applications, the 60 kW, 100 kW, 150 kW, 230 kW and 500 kW trailer-mounted diesel generator sets feature enhanced performance, increased running time, and easy operator access for maintainability. The 150 kW and 230 kW models are certified to EPA Tier 3 standards.

Configured especially for the rental power market, these generator sets are packaged in an easy-to-operate customer interface allowing quick voltage changes to maximize flexibility and minimize setup. Once on the job, these units have a minimum of 24 hours of fuel capacity, 110% fluid containment to prevent jobsite contamination, and are designed to operate reliably in ambient temperatures of up to 105 degrees F.

Cummins Power Generation is an international supplier of rental power with generator sets from 35 kW to 2 MW. With over 80 years' experience, its global distributor network delivers Rental POWER on Site, on Demand and on Time(TM) every time. Industries being served include gas & oil, construction, entertainment, mining, manufacturing, utilities, special events and more. Applications include prime, emergency, standby, paralleling, peak shaving and distributed generation.

In additional to offering rental products and services, Cummins Power Generation offers other commercial products that include alternators, generator-drive engines and permanent pre-integrated power systems. Services range from system design, project management, financing and operation and maintenance contracts to development of turnkey power plants. For more information, contact Debby Wadsworth, Cummins Power Generation, 1400 73rd Ave. NE, Minneapolis, MN, 55432. Phone: 763-574-5395; Fax: 763-574-5811. Or visit the web site at http://www.cumminspower.com/rental.

More from Electrical Equipment & Systems