New Material Makes Custom Air Filter Manufacturing Simple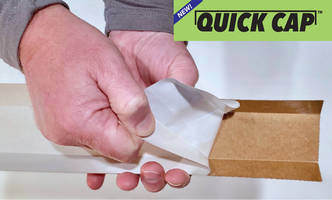 A Peel & Stick solution for end-capping air filters
Create attractive, high-performance re-manufactured air filters
Fast, simple, and safe application
No expensive machinery or special training needed
CLEVELAND, OH – January 15, 2021 Air Rite Filters introduces a patent-pending material for use in odd-size and custom filter manufacturing, also known as "cut-and- cap" operations. Quick Cap is available in 1", 2" and 4" nominal spine widths. The Quick Cap material is trimmed to length with a standard paper cutter or scissors. Then, with the backing peeled off, it is hand applied to a filter that the user has cut down to the desired size. The pressure sensitive adhesive (PSA) formula is so strong that once properly applied, the filter will be damaged if it is removed.
"For years, to make those odd sizes, we have used staples, tape, and paper strips to cap our cut-down filters. Although quite sturdy, some customers commented the filters looked cheap and not very professional. Then, when our production crew started complaining about carpal tunnel-type issues in their wrists and forearms from stapling, I knew we had to find another, better way to re-manufacture our filters.", says, Dave Harris, President of Air Rite Filters
The new approach has many benefits over the legacy operations found in most filter companies. Hand or pneumatic stapling operations can finally be eliminated. Pricey hot melt systems are no longer needed saving electricity and time. 
Harris has received feedback from customers, "Their hot melt machines take time to warm up, the glue can be expensive, and their people were getting nasty burns. Quick Cap has saved them money on electricity, pellets, and worker injuries."
Another benefit of Quick Cap is that the adhesive is self-sealing to the raw ends of the filter material which eliminates air bypass, a problem with many filters. Use it to create custom size air filters that the untrained eye would think were machine made, like mass produced standard sizes are.
 Air Rite Filters is a Northern Ohio based custom air filter manufacturer and stocking distributor of several major filter brands, and a member of the National Air Filtration Association.
Name of Press Contact: Dave Harris
Phone: (216) 228-8200
Email: daveh@airrite-supply.com
More from Machinery & Machining Tools