New Firmware Improves Security - Extended Firewall Functionality for TC Router 4G LTE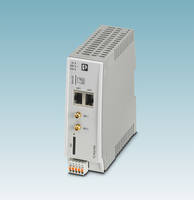 Middletown, Pa. – With the release of firmware 2.05.1, Phoenix Contact has extended the scope of functions of its TC Router product range. The firmware is available to download at www.phoenixcontact.com.
The TC Router permits remote access to SCADA networks and control systems over the cellular network. Since these networks typically involve critical infrastructure, the TC Router VPN and firewall have been updated to increase network resiliency and protect against cyberattacks.
Firmware 2.05.1 extends the cybersecurity features to all interfaces communicating between the LAN and Internet. The upgrade includes firewall rules that can prevent unauthorized users from
logging into the device over the Internet (external access), or prevent specific devices from communicating to the TC Router through the XML interface. Access to the web interface can now also be secured with user-defined certificates for the HTTPS protocol to increase security and have browsers recognize the connection as being trustworthy.
Lastly, Denial of Service (DoS) protection ensures that, in the event of an attack (ICMP flood/TCP SYN flood), the router does not use unnecessary resources and remains in a valid operating state.
To learn more about the TC Router, visit: www.phoenixcontact.com/tcrouter.
About Phoenix Contact
Phoenix Contact develops and manufactures industrial electrical and electronic technology products that power, protect, connect, and automate systems and equipment for a wide range of industries. Phoenix Contact GmbH & Co. KG, Blomberg, Germany, operates 50 international subsidiaries, including Phoenix Contact USA in Middletown, Pa.
For more information about Phoenix Contact or its products, visit www.phoenixcontact.com, call technical service at 800-322-3225, or e-mail info@phoenixcon.com.
More from Software