New EZ-Lock Kits for Brookfield Accessories Make Set-up Fast and Easy!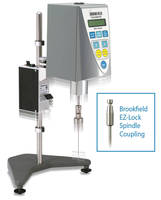 Middleboro, MA - Brookfield Engineering announces New EZ-Lock Spindle Coupling Kits for Brookfield's most popular accessories. Brookfield recently released EZ-Lock Kits for its Small Sample and UL Adapters and now it has added kits for the Helipath Stand, DIN Adapter, Thermosel and also an EZ-Lock Vane Spindle Set.

The EZ-Lock Spindle Coupling allows technicians to quickly and easily attach/detach spindles in busy laboratory environments, saving valuable time and improving productivity.

o Small Sample Adapter is for rheological evaluation where sample volume is limited
o UL Adapter is for low viscosity materials
o Helipath Stand is designed for measuring non-flowing substances like gels, pastes and putty
o Thermosel is for elevated temperature testing
o EZ-Lock Vane Spindle Set for measurement of pastes, gels and fluids with suspended solids
o DIN Adapter complies with DIN 53019 requirements

For more information about Brookfield accessories and the new EZ-Lock Spindle Coupling Kits, visit www.brookfieldengineering.com or call 800.628.8139 or 508.946.6200.

More from Electronic Components & Devices