New DRO for Use with Encoders for Precise Positioning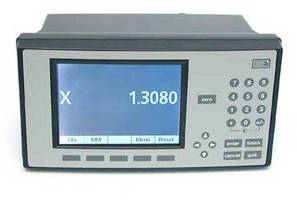 The QC1100-ar readout has been replaced by the New QC-10V DRO.

New features:

A. New, easier setup menus

B. More resistant to power surges

C. Compact size (9.75" length x 4.5" depth x 5.25" height)

D. Same reasonable price

It is used with our comprehensive line of UniSlide Assemblies with optical encoders for precise positioning in manufacturing and testing. These screw driven slides employ an encoder to measure absolute travel distance and position. Two encoder resolutions are offered: 0.0002"/5 µm or 0.00005"/1 µm .

The stages are available in four cross sectional widths: 2.5", 4", 6", and 9" for loads up to 300 lbs. Numerous UniSlide Models have travels ranging from 1" to 84". Rapid Advance UniSlides use a lead screw clutch mechanism to save repositioning time using long units. Modular UniSlide Assemblies are easily assembled to make multi-coordinate systems.

More from Electrical Equipment & Systems