New Div. 2/ Zone 2 Panel PCs and Monitors from Pepperl+Fuchs Provide 24/7 Operation in Harsh Process Applications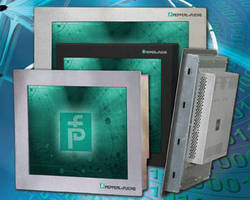 VisuNet IND 8200 Series is a true industrialized all-in-one visualization solution that mounts directly to equipment to provide highly reliable operator control and batch management in a variety OEM industries and applications

TWINSBURG, OH - Pepperl+Fuchs introduces Type 4/4X (IP66) VisuNet IND 8200 Series HMI Panel Mount PCs and Monitors. These Windows-based, all-in-one panel PC and remote monitors mount directly to OEM process machinery or manufacturing equipment and interface with the control system. Each unit is manufactured using all industrial-grade components. They are shock and vibration resistant, globally certified for Class I, Division 2 and Zone 2 (pending) operation, and are rated for 24/7 operation in extended temperature environments. The tough industrial design allows for indoor-outdoor use in even the harshest and many times hazardous applications typical of the oil and gas, food and beverage, and automotive industries. The monitor's chamfered bezels are also well suited for pharmaceutical MES and clean room functions.

"Machine builders and OEMs have moved away from standalone equipment with pushbutton control toward more advanced networked PC-based touchscreen operator interfaces. This allows for the machine and manufacturing execution system (MES) to be seamlessly integrated with plant and enterprise level networks," says Kristen Barbour, Product Marketing Manager. "This shift is directly related to migration of both PLC and PC machine control. The PLC handles the logic control and the PC runs the HMI. The HMI is the apparatus that displays data to the operator graphically, and through which the operator can controls the process. HMIs are normally linked to the SCADA system's databases and software programs to provide trending, diagnostic data, maintenance procedures and alarm handling."

VisuNet IND 8200 series panel mount workstations are available in KVM remote monitor, Ethernet Remote Monitor and Panel PC configurations. The units feature a chemically-resistant 15 in. or 19 in. touchscreen, with a variety of touchscreen options to satisfy unique application needs including LED-backlit, anti-glare, transflective LCD, and hardened resistive glass. They consume very lower power, enabling the unit to conserve energy and dissipate very little heat when idling. They also provide fanless operation due to the efficiency of the Intel® Atom(TM) N270 or 1.5GHz Core(TM) 2 Duo processors.

Additionally, the Ethernet remote monitor technology requires no software installations, provides standard Ethernet networking connections to the server to eliminate the need for expensive converters, and reduces IT infrastructure needs by providing access to multiple servers from a single workstation. These visualization solutions support RDP applications including Microsoft® terminal services, Citrix® ICA, or VNC RFB.

"Conditions in processing plants can be extremely problematic, and visualization systems can be subject to moisture and extreme temperature shifts as well as solvents, chemicals, and pressure cleaning. For HMIs, this challenge is easily met by placing only the most essential components in the field and using data lines to establish connection to the equipment in the safe area. This separation minimizes exposure to harsh conditions for a majority of the components and significantly decreases the chance for failure," explains Barbour.

About Pepperl+Fuchs

Pepperl+Fuchs is a world leader in the design, manufacture, application and support of a broad range of robust solutions to varied process automation markets and applications.

A 2010 and 2011 Control and Control Design Reader's Choice Award winner for intrinsic safety equipment and purge & pressurization systems, Pepperl+Fuchs has also been named by Control magazine and the ARC Advisory Group as one of the Top 50 Global Automation Companies.

Pepperl+Fuchs, 1600 Enterprise Parkway, Twinsburg, OH 44087; (330) 486-0002; fax: (330) 425-4607; pa-info@us.pepperl-fuchs.com; www.pepperl-fuchs.us.


More from Mechanical Power Transmission