Vision and Imaging Sensors / Detectors
New Decora® Wall Switch Sensors Feature Occupancy and Vacancy Sensing with Convenient Nightlight Capabilities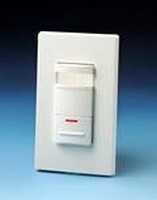 Devices Meet California Title 24 Requirements; Provide Energy Savings and Convenience Benefits

Little Neck, NY, October 27, 2006 - The Lighting Management Systems Division's new Decora® Wall Switch Sensors, available in occupancy sensing (Cat. No. OSSNL) and vacancy sensing (Cat. No. OSS10) models, incorporate a convenient LED nightlight in a single attractive, compact device. The LED nightlight uses a photocell to automatically illuminate a room or area based on the ambient light level present. This provides a reassuring nightlight in a darkened room or area.

The Decora® Wall Switch Occupancy Sensor uses passive infrared (PIR) detection technology to automatically switch lights ON once occupancy is detected within its field-of-view. This unit will then switch lights OFF after a user-specified time-OFF interval. Once manually switched on, the Decora® Wall Switch Vacancy Sensor monitors a room or area for occupancy and automatically switches lighting OFF after a user-specified time-OFF interval once it no longer detects occupancy.

The Decora® Wall Switch Vacancy Sensor is CEC Title 24 compliant and is ideal for use in hospitality and healthcare facilities and anywhere where a manual ON occupancy sensor is desired. Both models are suitable for applications where automatic lighting control to achieve energy mandates or energy cost savings objectives are desirable.

Both models feature a 180-degree, field-of-view with approximately 1,200 feet of coverage. The devices provide ''small motion'' detection, capable of sensing even slight body movement for optimum lighting control. The units are rated 120/277V and are compatible with electronic and magnetic ballasts and designed to fit standard wallboxes. Both units provide an adjustable LED nightlight that can be brightened and dimmed according to user-specified preferences. The LED nightlight function will be activated when ambient light levels drop to less than 1-foot candle and deactivated when the ambient light level exceeds 5-foot candles.

Both units meet UL, cUL and NOM certification and are CEC Title-24 compliant. The units are backed by Leviton's Limited Five-Year Warranty.

For more information, contact Leviton Manufacturing, 59-25 Little Neck Parkway, Little Neck, and NY 11362, www.leviton.com.

Related