New CT50 Vital Signs Monitor from SunTech Medical at MEDICA 2017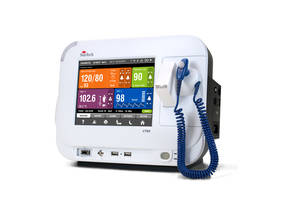 Morrisville, NC (November 14, 2017) – SunTech Medical will display its new CT50 vital signs monitor at the 2017 MEDICA world forum for medicine, booth 9A37. The show takes place from November 13-16 at the Düsseldorf Exhibition Center (Düsseldorf, Germany).
Visitors to the company booth can view hands-on demonstrations of the SunTech CT50. Building on the success of the SunTech CT40 spot check device, the new monitor was designed with advanced monitoring features including programmable intervals for BP measurement and patient alarms. In addition to SunTech's Advantage blood pressure technology, the CT50 can also be configured with Masimo SET® pulse oximetry and Covidien Filac 3000 temperature.
The SunTech CT50 is will initially be available in European Economic Area (EEA) member countries.
About SunTech Medical
SunTech Medical, a Halma company, has been the preeminent supplier of clinical-grade blood pressure monitoring products and technologies for 30 years. More than 75 companies trust SunTech Medical's OEM non-invasive blood pressure solutions for their patient monitoring needs. SunTech Medical produces the leading cardiac stress test blood pressure monitor and is the world's foremost manufacturer of ambulatory blood pressure monitoring products. SunTech Medical also offers solutions for in-office blood pressure monitoring for human and veterinary markets, as well as a complete line of blood pressure cuffs designed for general and specific applications.
More from Communication Systems & Equipment