NDAA-Compliant VIRALERT 3 Skin Temperature Screening System from AMETEK Land Provides Highly Accurate, Real-Time Results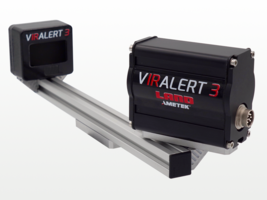 AMETEK Land confirms compliance with the U.S. government's National Defense Authorization Act (NDAA) standards in line with recently announced NDAA blacklist for video surveillance equipment and components.

The ruling, which has implications for all U.S. government contractors and suppliers using or buying Chinese-made video surveillance and telecommunications products and components, took effect on 13th August 2020. 

Section 889 of the 2019 National Defense Authorization Act prohibits the federal government, its contractors, and its grant and loan recipients from procuring or using certain "covered telecommunication equipment or services" as a "substantial or essential component of any system, or as critical technology as part of any system" if produced by Huawei, ZTE, Hytera, Hikvision, Dahua or their subsidiaries.

The ruling does not affect the availability of AMETEK Land's VIRALERT 3 Temperature Screening System, which is exempt from the NDAA blacklist. Designed and manufactured at its UK facilities, the VIRALERT system does not contain any parts or components that have been identified as restricted by the NDAA legislation.

Combined with Land's world-leading expertise in developing high-accuracy infrared measurement instruments for more than 70 years, users can be assured that the VIRALERT 3 skin temperature screening system is safe, reliable and secure for use as a method of detecting elevated temperatures associated with COVID-19 and other infectious diseases.

VIRALERT 3 provides real-time infrared thermal imaging from a safe social distance, scanning for elevated temperatures that could indicate infection. Consisting of a compact, advanced thermal camera and a temperature-controlled blackbody calibration reference source on a single mounting, VIRALERT 3's non-contact measurement uses automatic face detection to locate the best areas for temperature detection.
Click here for more information on VIRALERT 3
More from Mechanical Power Transmission