Name Change for EyeC In-Line Inspection Systems: New Series Name, Same Trusted Expertise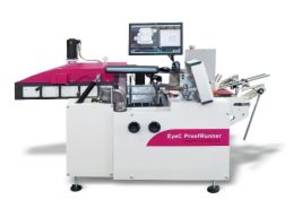 EyeC in-line inspection systems on the market since 2006
A growing portfolio calls for a name change to the in-line inspection systems
Print inspection solutions for every step of the production process
Hamburg, April 23, 2019. In the first quarter of 2019, EyeC decided to change the product names in the ProofRunner Product line. This change will bring greater clarity to its ever-growing portfolio of in-line inspection systems that was established in 2006. With a new name and the same well-known reliability, the inspection systems EyeC ProofRunner Web, Sheetfed, Carton Folder Gluer, and Carton Sorter series inspect 100% of the run and contribute to preventing job mixes and defective print products.
The EyeC ProofRunner Web series is an in-line inspection system that checks the quality of every type of printed web goods, such as labels, package inserts and flexible packaging. It monitors print quality directly on the press or on the rewinder. In contrast, the EyeC ProofRunner Sheetfed series inspects 100% of the printed sheets in the production of folding boxes and package inserts. The system is available for many offset sheetfed printing presses such as the ones from Koenig & Bauer and Manroland Sheetfed. These systems significantly simplify print monitoring.
For 100% print quality control for cartons, printers can either integrate the EyeC ProofRunner Carton Folder Gluer into their folder gluer, or combine EyeC technology with a flexible pre-feeder module such as the ones from Kohmann and Versor. The system uses the folder gluer's existing ejection device to reject any defective item. An alternative solution for folding box inspection is the EyeC ProofRunner Carton Sorter series, which is installed on a sorting unit. The system inspects and sorts 100% of the folding boxes, without damaging them, before continuing to the gluing process.
"As a complete provider of print inspection solutions, we help our customers monitor the quality of their products in all stages of the production process," says Nico Hagemann, Product Manager for EyeC ProofRunner systems. "The focus is always on further developing our products and flexibly adapting our portfolio. This is why it was important to rename our in-line solutions - to make them easier to communicate to the customer," he adds.
About EyeC
Founded in 2002 in Hamburg, Germany, EyeC is the market's only supplier to ensure the product quality throughout the entire printing process – from the first artwork file to the finished product. The product portfolio includes file-to-file comparison for artwork revision control and prepress applications, as well as print-to-file inspection systems for press sample testing and 100% print quality control of products such as folding cartons, labels, leaflets, or flexible packaging. The market's most intelligent algorithms ensure that the systems show only relevant defects. With EyeC products, users avoid recalls, keep production costs and material waste in check and optimize their quality control. Worldwide, there are over 1,800 EyeC inspection systems in use by pharmaceutical companies, printers, and branded good manufacturers. The company currently has over 60 employees in Hamburg and has international sales partners in more than 20 countries.
Media contact
Franziska Koch, EyeC GmbH, Tel. +49 40/22 63 555-122, Franziska.Koch@EyeC.de
Virginie Gaillard, EyeC GmbH, Tel. +49 40/22 63 555-114, Virginie.Gaillard@EyeC.de
More from Cleaning Products & Equipment