Murata Showcases Innovation in Electronics at CeBIT 2012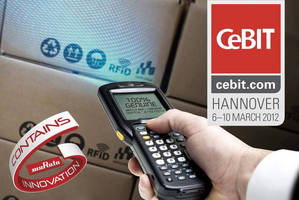 Hall 5, Stand D50 - CeBIT 2012, 6 - 10th March 2012

Hoofddorp, Netherlands: Murata today announced their participation at CeBIT 2012, Hannover Messe, Germany, 6 - 10th March 2012 with stand demonstrations showcasing Murata innovations in everyday consumer electronics, healthcare technologies and energy efficiency.

One of the many industry-changing innovations on display will be Murata's MAGICSTRAP® RFID product family. Practical uses of this technology across the whole electronics value chain will be demonstrated together with system integration partners. Actual electronic products already incorporating this UHF RFID technology will be used in the demonstrations.

With the world's first capacitive coupling device, Murata will show how easily consumer devices can be charged without the need for cables. Other key demonstrations are a vital signs sensor, a miniature piezo-based blower/pump, a leaf grip remote controller application example using a touch pressure pad, and wireless connectivity modules used to facilitate, sense and control smart energy and home automation.

Those interested in audio applications will be interested to see and hear audio coming from the demonstration of a completely flexible speaker.

For more information on Murata's presence at CeBIT 2012 visit www.murata.eu/innovations

For further information and reader enquiries:

Aya Tonooka, Murata Europe Limited. Oak House, Ancells Road, Ancells Business Park,
Fleet, Hampshire GU51 2QW , United Kingdom

Tel: +44 (0) 1252 811666

Fax: +44 (0) 1252 811777

E-mail: ayatonooka@murata.co.uk

Web: www.murata.eu

Agency contact:

Robert Huntley, Publitek Limited, 18 Brock Street, Bath, BA1 2LW, United Kingdom

Tel: +44 (0) 1225 470000

Fax: +44 (0) 1225 470047

E-mail: robert.huntley@publitek.com

Web: www.publitek.com

About Murata

Murata is a leading manufacturer of electronic components, modules, and devices. The complete range of this Ceramics Technology house includes ceramic capacitors, resistors/thermistors, inductors/chokes, ceramic resonators, buzzers, sensors and EMI suppression filters. Whilst the company gets 40% of its revenue from its ceramic capacitor products, it is also the world leader in Bluetooth & WiFi Modules, and a key manufacturer of power supplies. Murata also designs and manufactures mobile handset antenna families, piezoelectric actuators for fuel injection systems, short focal length ceramic lenses and speaker products.

Established in 1944, Murata is headquartered in Japan and has European offices in Germany, the Netherlands, the UK, Switzerland, Italy, France, Spain, Denmark, Sweden, Finland and Hungary.

For more information on Murata, please visit: www.murata.eu. You can also follow us on Twitter @MurataEurope or LinkedIn www.linkedin.com/company/murata-electronics, or join us on Facebook at http://www.facebook.com/MurataElectronics.

More from Electronic Components & Devices