Muller Introduces Yellow Jacket 87-Sa Orbtial Stretch Wrapper at FabTech 2017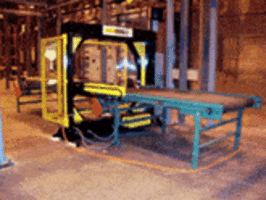 87" Semi-Automatic Unit Available as Stand-Alone or as Kit to upgrade Manual Model
Glenview, IL, (November 6 , 2017) - Muller, a leading manufacturer of both innovative equipment and material load containment solutions, announces it will introduce the Yellow Jacket 87-SA Orbital Stretch Wrapper at FabTech 2017 in booth A3076 at McCormick Place, Chicago, November 6-9.
Originally built by fabricators to solve the unique challenges of securing oddly shaped, heavy loads directly to the pallet, Muller's Yellow Jacket orbital stretch wrapper is the preferred load containment solution for fabricating industry veterans. Muller will now offer a semi-automatic kit to upgrade the 87M or a stand-alone semi-automatic option in the 87-SA. Both the 87M and the 87-SA Yellow Jacket effectively secure complex fabrications, metal parts and loose assemblies on a pallet. The Semi-Automatic kit and stand-alone machine will allow the operator to stay on the forklift while securing the load, for added safety and additional efficiency.
Both Yellow Jacket Orbital Stretch Wrapper options significantly minimize the time it takes to wrap a load by hand. Typically it takes 2 workers roughly 10 minutes to wrap a similar load by hand. Yellow Jacket can wrap a similar load with 1 worker in 1 minute. In addition to reducing the labor required to wrap by at least 50%, Yellow Jacket also eliminates the need for other strapping materials or expensive cartons to secure loads. Yellow Jacket's customers have reported anywhere from $20,000-50,000 dollars saved annually in labor costs alone. Factor in the increase in product integrity, reduction in material use and other hidden costs, and the savings only increase. Tightly wrapped to the pallet, the load's ability to shift, fall or slide in transit is nearly impossible.
Yellow Jacket's Orbital Stretch Wrapper is available in manual or semi-automatic. The 87-SA requires a footprint of only about 8'x9' and runs on 110VAC- making it easy to install in most any plant. It also wraps a standard pallet size up to 77" length in one stroke and 68" diagonally.
"Muller is backed by some truly amazing solutions that continually set us apart from the competition," says Mark Lawler, Distribution Manager, Muller LCS "The Yellow Jacket is proof that our products provide industry specific solutions and we work tirelessly to help our customers solve all their load containment needs."
For general information about Muller contact directly via email: sales@mullerlcs.com, or by phone: 1-800-OCTOPUS (1-800-628-6787)
About Muller
Muller is a leading manufacturer of load containment solutions. Headquartered in Glenview, IL, the company provides a single source to properly secure pallets. Muller's highly regarded OctopusTM stretch wrapper line, along with other reliable equipment such as the CobraTM and RaptorTM, provide customers with a wide range of solutions. Muller products are sold around the world under the brands Yellow Jacket, Haloila, Mima, GaleWrap, Lachenmeier and Lock n' Pop- all brands are under the Signode Industrial Group (SIG).
About Signode Industrial Group
Signode Industrial Group is a leading global designer and manufacturer of systems used to contain, unitize, and protect goods during manufacturing, transport, and warehousing. The company's products include strap, stretch, and protective packaging equipment, tools and consumables which are sold around the world under a broad array of well-known brand names, including Signode, Strapex, Orgapack, Fleetwood, Mima, Angleboard, Haloila, Muller, Multi-Wall and Shippers. Signode Industrial Group, a multibillion dollar company Headquartered in Glenview, Illinois, employs about 7,000 people across six continents. www.signodegroup.com
Related