MS5561C Altimeter Pressure Sensor Completes 24 Mile Skydive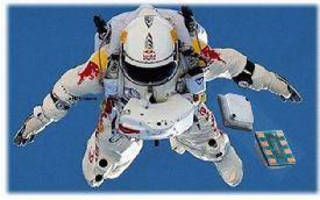 Felix Baumgartner recently set a world record for skydiving. Jumping out of a helium balloon from a height of 24 miles, he landed ten minutes later after free falling at speeds up to 834.4 mph for about 4 minutes and then parachuting to the ground. This project was sponsored by Red Bull, an energy drink sold by the Austrian company Red Bull GmbH.

Strapped to Mr. Baumgartner's left arm of his space suite was an ALTITRACK(TM) sport altimeter boasting an analog face but utilizing the highest technical and durable digital components for accuracy that surpasses every other mechanical sport altimeter currently available.

It was Measurement Specialties' MS5561C micro-pressure altimeter sensor that was packaged with the ALTITRACK(TM) sport altimeter to provide key altitude measurements. The MS5561C is an SMD-hybrid device that uses a three-wire serial interface for communication. The module dimensions of 4.75 mm x 4.25 mm and a height of only 1.6 mm allows for up-to-date SMD design. This low power, low voltage device features automatic power down (ON/OFF) switching. The MS5561C was selected for this application due to its high accuracy, ability to withstand extreme cold, excellent negative g force resistance and low sensitivity to vibration caused by supersonic sound waves.

About Measurement Specialties

Measurement Specialties, Inc. designs and manufactures sensors and sensor-based systems. The Company produces a wide variety of sensors and transducers to measure precise ranges of physical characteristics such as pressure, force, vibration, torque, position, temperature, humidity, fluid properties, mass air flow and photo optics. Measurement Specialties uses multiple advanced technologies - including piezo-resistive, electro-optic, electro-magnetic, variable reluctance, magneto resistive, digital encoders, reed switch, ultrasonic, thermistor, thermocouple, RTD, capacitive, resonant beam, application specific integrated circuit (ASIC), micro-electromechanical systems (MEMS), piezoelectric polymer and strain gauge - to engineer sensors that operate accurately and cost effectively in our customer's applications.

More from Software