Cleaning Compounds and Chemicals
MPMC Media Trade Conference Exceeded Expectations for Champion Racing and Performance Products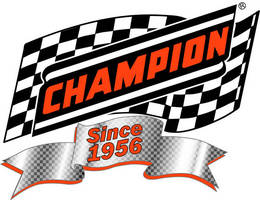 Champion Oil, a globally recognized industry leader of "purpose-built" synthetic lubricants, concluded very successful technical discussions this week at the Motorsports Parts Manufacturers Council (MPMC) Media Trade Conference, a division of the Specialty Equipment Market Association (SEMA).

Champion Oil at the MPMC Conference met with over 70 technical editors from digital and print publishers such as Hot Rod, Aftermarket Business, Diesel World, Street Rodder, Circle Track, Diesel Power, Power TV, Street Trucks, Auto Trader Classics, Motor Trend, Speedway Illustrated, Engine Builder, Hot Rod Parts Guide, and Performance Business.

"Editors and manufacturers had a productive week at this year's MPMC Media Trade Conference", stated Jim Skelly, Director of Councils for SEMA. "The success is a direct result of the great participation that we had from media and manufacturers such as Champion Oil. Now, we look forward to seeing the manufacturers' media relationships grow."

Champion introduced to the editors at the conference a variety of new products for the technical discussions.

Champion Power Steering Fluid is a premium quality fluid formulated using select Group II base oils with advanced chemistry, Champion Power Steering Fluid offers excellent protection and performance in all power steering systems. Meets requirements of major foreign, as well as, domestic manufacturers. Protects hoses from erosion and drying

Champion Fuel Injector Cleaner keeps fuel injector systems clean and cleans carburetors on older model vehicles. Offering superior protection against rust and corrosion, this powerful cleaner also helps remove water and contamination from critical components of fuel systems. Champion Fuel Injector Cleaner reduces emissions and will not harm catalytic converters.

Champion Octane Treatment is formulated to reduce the need for higher-octane fuels. Preventing knocks, pings, and engine hesitation, this fluid also cleans combustion chambers. A great fuel stabilizer that is compatible with all gasoline additives as well as being oxygen sensor safe.

Champion All Season Diesel Flo is a multi-functional diesel fuel additive that boosts performance in key areas of injector detergency, fuel economy, and smoke reduction, Champion All Season Diesel Flo is a very powerful conditioner and anti-gel. Adds lubricity, detergent, and cetane improvement to low sulfur diesel fuels. Contains no metals, halogens, sulfur or other ingredients that are harmful to diesel engines. Champion All Season Diesel Flo is completely organic and ash free.

Champion Universal Automatic Transmission Fluid is a multi functional transmission fluid that provides excellent anti-shutter, anti-friction, and high and low temperature protection. Recommended for use in all American and foreign automatic transmissions requiring the performance requirements of Ford Mercon®, GM Dexron ®III, Allison C-4, Cat TO-2, and Ford Type H and CJ specifications.

Champion GlobalTrans Synthetic M-V Automatic Transmission Fluid is a full synthetic multi-vehicle automatic transmission fluid that delivers superior performance in the areas of low-temperature flow, wear protection, frictional stability and also supplies resistance to thermal breakdown. Formulated with 100% synthetic base fluids chosen for their superior resistance to oxidation and viscosity changes.

Champion Fuel Stabilizer is a concentrated formula designed for all 2 and 4 cycle engines. Keeps gasoline and diesel fuel fresh during storage and also prevents corrosion and varnish build-up. Champion Fuel Stabilizer excels at keeping a fuel system clean, resulting in better performance. This is a dual function product that stabilizes fuel for quicker start-ups after storage and improved fuel efficiency.

Champion Poly 7® High Temp Grease is an ultra heavy duty high temp grease formulated with highly refined petroleum stock, co-polymers, and advanced lithium complex additives specially processed to provide the ultimate in lubrication. The super tough film strength of Champion Poly 7® stays put under extreme shock loads and offers a very low friction coefficient. Champion Poly 7® is an all weather grease that meets the requirements of NLGI GC-LB for automotive wheel bearing and chassis lubrication.

Champion eGuard Ethanol Fuel Treatment is a powerful treatment fluid that helps with the stabilization of fuel and removal of water in fuel systems. Formulated with advanced chemistry, Champion eGuard Ethanol Fuel Treatment offers corrosion resistance, reduced friction, reduced gum formation, and upper cylinder lubrication. This product provides superior cleaning of combustion chambers and port fuel injectors with regular use.

About the company: Champion Brands, LLC, is a globally recognized industry leader in synthetic oil for over 55 years. Champion also produces and blends over 300 products including fuel, oil, engine additives, and lubricants for the racing, automotive, heavy truck, agricultural, industrial, and specialty markets. For more information about Champion Brands Brake Fluid contact your nearest Champion distributor, or call Champion at 800-821-5693 or 660-885-8151. Champion Brands, LLC; 1001 Golden Drive, Clinton, MO.

http://www.ChampionsUseChampion.com.


More from Software