Molex Impact(TM) Backplane Connector System Receives 2009 DesignVision Award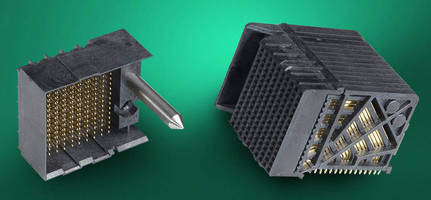 LISLE, Ill. - February 09, 2009- Molex Incorporated (NASDAQ: MOLX AND MOLXA) is honored to announce its Impact(TM) backplane connector system has been named as a winner in the International Engineering Consortium's (IEC) 2009 DesignVision Awards. The IEC announced the awards on Feb. 3 at DesignCon 2009 in Santa Clara, Calif.

The Impact connector system was selected by the DesignCon 2009 Technical Program Committee, consisting of industry experts in the semiconductor and electronic design engineering community judging the design tools and products as unique and beneficial to the semiconductor industry.

"The IEC's DesignVision Awards give tribute to the top design tools of today. We're pleased to recognize Molex as the Winner for its Impact backplane connector system in the Interconnect Technologies and Components category," commented IEC Executive Vice President Roger Plummer.

At over 25 Gbps data rates, Molex's Impact backplane connector system provides significant channel performance headroom for both traditional backplane and midplane architectures. It pushes the speed and density envelope to meet the next generation requirements of server, storage, telecommunications and data networking equipment.

"We are extremely pleased to be selected for this prestigious award," said Dr Peerouz Amleshi, senior principal engineer, Molex Incorporated. "Our design team worked closely with industry leading OEMs to develop the Impact connector system to provide the appropriate balance of speed and density to meet the current and future performance needs of our customers."

Molex continues to expand its Impact backplane connector family. It is now tooled and available in 2-, 3-, 4-, 5-, and 6-pair traditional backplane header and daughtercard connector versions that support differential signal densities up to 80 differential pairs per linear inch in less than 29mm total width, making it the fastest, densest backplane connector on the market today. The Impact connector system is available with a complete range of guidance, power, coplanar, mezzanine and high performance cable solutions.

About Molex Incorporated

Molex Incorporated is a 70-year-old global manufacturer of electronic, electrical and fiber optic interconnection systems. Based in Lisle, Illinois, USA, the company operates 45 manufacturing locations in 17 countries. The Molex website is www.molex.com.

Related