Model 2500 Snack Food Dryer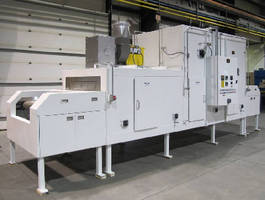 The Lanly Company supplies a complete line of Snack Food Dryers.

The Model 2500 featured includes a 50" wide balanced mesh weave type 304 stainless steel conveyor belt. The dryer utilizes a natural gas burner with proven top down high volume air supply and exhaust fan for moisture removal. A set of removable filters for the recirculating air maximizes clean air flow and provides ease of maintenance. The dryer is capable of producing up to 2400 lbs of a variety of extruded snack products per hour.

The construction features an aluminized steel exterior painted white along with select stainless steel interior components. The dryer is designed with eight hinged access doors to allow entry into the interior of the dryer for cleaning and maintenance. The access door openings are designed to allow easy sweep out of waste materials from the dryer.


Related