Mitsubishi Focuses on Specialized Industries at IMTS 2006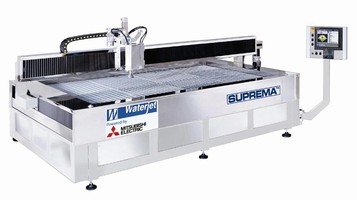 See What's New in Medical, Aerospace and Tool & Die at Booth D-4202

Wood Dale, IL - MC Machinery Systems, Inc. prepares for an exciting show at IMTS 2006. With multiple lines of complementary technology, Mitsubishi has the experience and equipment solutions to help U.S. manufacturers achieve maximum productivity, be it in medical, aerospace, or traditional die/mold applications.

Mitsubishi's industry-leading technology, automation expertise and team of specialists will provide the tools and intelligence needed to compete in the medical, aerospace, or die/mold industry. Mitsubishi's booth will be segmented to focus on each of these three markets, demonstrating how Mitsubishi can keep manufacturers competitive each industry.

Medical manufacturing is a fast-growing, lucrative market sector. The accelerating pace of medical breakthroughs, miniaturization in medicine and baby boomers entering their 60s have combined to fuel strong demand for high-quality who are shops able to deliver precision parts at competitive prices.

The booth's medical area will feature an automated cell simulating the use of Waterjet and Wire EDM technology in the production parts process. Equipment to be demonstrated includes the MD+Cell Wire EDM with Mitsubishi Robot and Waterjet Suprema 4-axis Waterjet.

The aerospace industry operates in an environment of constant change. When it comes to quality control, there's zero tolerance for error. Shops that can quickly and cost-efficiently deliver parts with exacting tolerances are positioned for excellence in the aerospace industry.

The booth's aerospace area will feature technology paired for performance on complex parts in extremely hard materials such as titanium and inconel - all while maximizing cost efficiency. Equipment to be demonstrated includes FA20VS Wire EDM, EA30E Sinker EDM, HC-658 and RMX-5 Roku-Roku.

The domestic die/mold industry is now facing a global market, making this traditionally competitive business even tougher. Die/mold makers must focus on targeting niche markets and developing specialized products, materials, processes and customer knowledge in order to survive in today's market - and compete on value instead of cost.

The booth's die/mold area will feature automated combinations of wire and sinker EDM machines designed specifically to maximize flexibility and efficiency for die/mold makers. Equipment to be demonstrated includes an automated EA12V Sinker EDM and HC-658 Roku-Roku, FA10PS and FA10S Wire EDM and a CNC EDM Drill.

Mitsubishi's MD+PRO is ideal for 24/7 production work in medical manufacturing. This wire EDM machine combines the quality and reliability Mitsubishi is known for with the high speed and precision required by medical manufacturing. The machine comes standard with .006"~ .012" wire capable automatic threading, and is capable of a full servo B-axis indexing option, allowing for turn-n-burn application.

The 4-axis Waterjet Suprema's software features Intelligent Tapering Control, which corrects the natural tapering of the cut automatically. Through the CNC it inclines the water jet up to ± 6 degrees while pointing the jet towards the cutting direction. This process allows for the optimum cutting speed in a contour and accurate wall straightness.

Mitsubishi's FA-20VS comes standard with .004"~ .014" wire capable automatic threading. The V500 Power Supply provides the proper combination of voltage and peak current to do an excellent job of machining PCD and CBN materials. It also excels in poor flushing type work, providing 20% faster machining as compared to the FA-S Series.

Roku-Roku's HC-658 High-Speed Vertical Machining Center provides a multi-purpose design unsurpassed for the high-speed machining of mold steels and graphite electrodes. Its one-piece box style cast base and mono-block column and crossbeam support provides excellence in quality and rigidity.

The EA12V Sinker has a space-saving footprint and a multi-position work tank, allowing the operator to set up while circulating the dielectric fluid. The E.S.P.E.R. II software can easily create programs for measuring, power settings for burning, and orbital paths for finishing.

The Consumable Products Group (CPG) will showcase its extensive line of OEM quality consumables. CPG products maximize efficiencies and increase EDM machine's longevity. The product line includes filters, brass wire, zinc-coated wire, diffusion-annealed wire, power-feed contacts and power-feed conversion kits.

MAC Funding provides flexible lease financing packages that can be tailored to accommodate your needs. Visit the MAC Funding Finance center inside the booth.

Mitsubishi's superior products are backed by industry-leading service and support. With regional satellite service locations across the country, our localized service teams can respond instantly. Our knowledgeable service team will be at the booth to discuss how Mitsubishi goes above and beyond to deliver excellence in customer service.

Mitsubishi upholds its reputation as a world leader in EDM and exceeds expectations by constantly delivering more sophisticated technology and dependability. For more information, contact MC Machinery Systems, Inc. at 1500 Michael Drive, Wood Dale, IL 60191, call 630-616-5920 or visit www.mitsubishi-world.com.

More from Architectural & Civil Engineering Products