Mitsubishi Delivers the Exacting Tolerances Demanded in the Aerospace Industry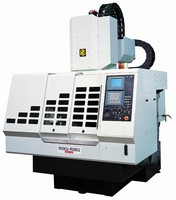 The aerospace industry operates in an environment of constant change. When it comes to quality control, there's zero tolerance for error. Shops that can quickly and cost-efficiently deliver parts with exacting tolerances are positioned for excellence in the aerospace industry.

The booth's aerospace area will feature technology paired for performance on complex parts in extremely hard materials such as titanium and inconel - all while maximizing cost efficiency. Equipment to be demonstrated includes FA20VS Wire EDM, EA30E Sinker EDM, HC-658 and RMX-5 Roku-Roku.

Mitsubishi's FA-20VS comes standard with .004"~ .014" wire capable automatic threading. The V500 Power Supply provides the proper combination of voltage and peak current to do an excellent job of machining PCD and CBN materials. It also excels in poor flushing type work, providing 20% faster machining as compared to the FA-S Series.

Roku-Roku's HC-658 High-Speed Vertical Machining Center provides a multi-purpose design unsurpassed for the high-speed machining of mold steels and graphite electrodes. Its one-piece box style cast base and mono-block column and crossbeam support provides excellence in quality and rigidity.

More from Electrical Equipment & Systems