Miller Plastics Incorporates Wegner Butt Fusion Welder To New Fabrication Facility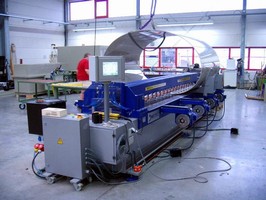 Miller Plastic Products, located a short distance from Pittsburgh in Burgettstown, PA, is soon to offer large plastic Butt Fusion Welding to its vast array of plastic fabrication abilities. Donnie Miller, Vice President of Miller Plastics, plans to unveil the company's new machine, the Wegener SM 440 BUTT FUSION WELDER, in 2008.

The addition of the WEGNER SM X40 BUTT FUSION WELDER will give the company the leading edge in the welding and fabrication of plastic with large parameters. It has a working width of 13'. The forming of large parameter plastic welds, cylinders and corners required several workers and various auxiliary equipment. The new Butt Fusion Welder provides a more efficient and safer process for a single operator.

A variety of products can now be offered from large custom plastic tanks involving corner welding capability to rolled cylindrical custom plastic tanks.


More from Packaging Products & Equipment