Milacron Announces Expansion To Thriving Servo Line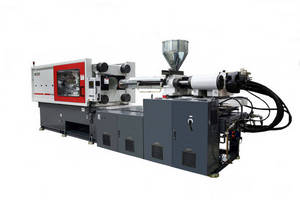 Batavia, Ohio - Milacron, a U.S. based worldwide supplier of plastics technologies, is expanding its Magna(TM) T Servo (MTs) product platform to include the newly designed MTs 500 and MTs 550 ton machines.

The MTs achieves 40 - 60% greater energy efficiency than a conventional hydraulic machine by coupling a permanent-magnet AC servo motor with a fixed gear pump. The machine's servo system allows the pump to deliver oil on demand as required for each stage of the injection process. As a result, the system requires less energy for part production and oil cooling and ejects less heat into the plant, creating cost savings that provide a faster return on investment compared to hydraulic platforms.

"There is a strong market demand for our machines," said Brian Bish, Milacron Global Product Manager. "Our customers are realizing a one-year payback on the premium over the older hydraulic platform, which is accelerating the market conversion to servo technology."

In a highly competitive industry, servo technology is closing the gap between conventional hydraulic and all-electric machines. The key features to servo technology are highly dynamic and low-in-inertia motors, improved control and repeatability, and an operational noise rating comparable to, or better than, an all-electric machine.

Servo motor and fixed gear pump systems are driving improved machine reliability. The servo motor controls multiple machine functions, which reduces the number of proportional valves. The fixed gear pump has fewer moving parts, is less sensitive to system contamination and has lower replacement costs.

Milacron servo-based machines operate at a significantly reduced oil temperature range verses conventional hydraulic systems. The lower operating temperature reduces the heat load on the factory, increases the life of the hydraulic oil and improves the life of the machines' sealing components.

The Magna T Servo delivers the energy savings and productivity of an all-electric at a hydraulic price.

About Milacron

Milacron and its businesses are committed to being the leading suppliers of plastics-processing technologies and industrial fluids around the world. The people of Milacron's companies know what matters in manufacturing, and every day, put this know-how to work to help customers improve productivity, cut costs, increase energy efficiency, eliminate scrap and reduce cycle times. For further information, visit http://www.milacron.com/plastics/.

More from Sensors, Monitors & Transducers