Microtips Announces 12.3 Inch TFT Display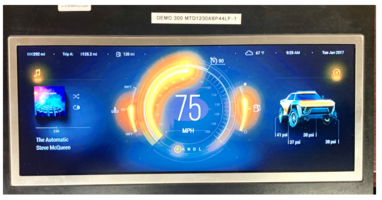 Microtips technology is excited to announce 12.3 Inch TFT Display. This LCD display offers a high resolution of 1920 x 720 pixels. 720 is an HD signal format. It features 720 horizontal scan lines of display resolution. This is also known as 720 pixels of vertical display resolution. The 12.3-inch TFT display module offers 750 nits brightness. The 750 Nits brightness makes the display brighter than its earlier counterparts. The 12.3-inch TFT display panels from Microtips USA are designed for operating temperatures from -30 degrees C to +85 degrees C. This helps manufacturers to use it for various advanced devices to be operated in diverse environments.
"The 12.3-inch TFT display panel offers a projected capacitive touch screen. This type of screen features a layer of glass in its front, and is supported by a matrix formed by capacitive elements. The elements are created using electrically conductive materials such as silver, carbon or copper, and indium tin oxide (ITO). The projected capacitive touch screen is durable, strong, reliable, and assures brilliant color clarity." according to Jordan ruhl, field Applications Engineer, for Microtips Technology. 
(888) 499-8477
Email: mtusainfo@microtipsusa.com
Link: http://www.microtipsusa.com
More from Computer Hardware & Peripherals