Micro Metalsmiths Makes Speedy Delivery for Spyker Cars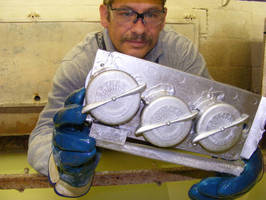 North Yorkshire based Micro Metalsmiths has successfully developed and manufactured a specialist fuel cap for luxury car manufacturer Spyker. The fuel cap, which features Spyker's distinctive company emblem, an aircraft propeller and a wire wheel, took less than 8 weeks to deliver and will feature on all production cars.

Spyker opted for Micro Metalsmiths because the company could deliver a product that meets the high exacting standards that are synonymous with the prestige Dutch car manufacturer.

One of the first things Micro Metalsmiths had to do was to quickly re-engineer the production tool, which was completed in only 2 weeks. This not only needed to be more economical, but also less complex to machine, whilst also providing an aesthetically pleasing appearance.

It is not the first project that Micro Metalsmiths has carried out for the Dutch based car manufacturer having previously also developed, amongst other things, tailor made air vents. The vents were also designed with the company's distinctive propeller emblem within a wheel.

Steve Parkin, director at Micro Metalsmiths commented, "We are extremely pleased to be supplying such essential parts to a prestigious international car brand. Our on site facilities mean we can consistently deliver high quality cost effective solutions, on time and on budget to our customers around the world"

Mr. Frans Liebregts, Chief Operating Officer of Spyker Cars, commented, "Spyker Cars is very pleased to have Micro Metalsmiths as their supplier for one of the eye-catching features of their cars: the fuel cap. The quality of the products supplied, demonstrates that Micro Metalsmiths understands the requirements of Spyker's customers."

The Spyker C8 Aileron, Spyker's latest production model, recently made its North American debut at the New York International Auto Show 2009.

About Micro Metalsmiths

Micro Metalsmiths' core technology is an investment casting foundry that gives it the ability to take a customer's concept and deliver a solution in the most cost effective manner, by forming complex shapes without the need for machining from solid.

The company can also provide microwave design, drafting, machining and assembly skills, the result is a microwave design and manufacturing facility ready to supply standard and customised solutions for the challenges of the RF & microwave electronics industry.

For further information about Micro Metalsmiths visit www.micrometalsmiths.com

About Spyker Cars

Beginning in 1875 as a coach builder, Spyker produced its first motorcar in 1898. From its earliest days Spyker cars have been known as powerful and exclusive, many of them establishing speed records. The company later built fighter aircraft and engines. The Spyker Company ceased trading in 1925, but its brand name and reputation for technologically advanced, exotic and dependable cars has been passed on to the new Spyker company and its cars. Built on five brand pillars - heritage, design, craftsmanship, performance and exclusivity - Spyker Cars started in 2000 as a Dutch manufacturer of hand-crafted, premium sports cars. The racing and aviation heritage of the early cars has been carried over to contemporary Spyker cars, which also benefit from experience gained by participating in events like the 24 Hours of Le Mans. Every body panel and component of the Spyker is numbered to indentify it as belong to the car's chassis number. The company's slogan, introduced in 1914, "Nulla tenaci invia est via: For the tenacious no road is impassable" continues to be used on its distinctive propeller and wheel logo. Spyker Cars is listed on the Euronext Amsterdam.

Additional information can be found on Spyker Cars' website: www.spykercars.com .

More from Optics & Photonics