MHS Wins Product of The Year Award for HC-loop Sorter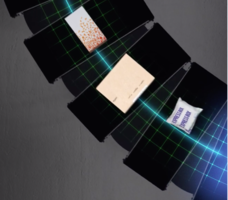 Cross-belt sorter wins conveyors and sortation category in annual product competition
(Mt. Washington, Ky.) Dec. 10, 2019 – MHS (www.mhsglobal.com), a single-source provider of material handling automation and software solutions, took home a product of the year award from Material Handling Product News (MHPN) for its HC-Loop sorter. The company's cross-belt sortation system won first place in the conveyors and sortation category, triumphing over three other finalists. MHPN readers cast 3,750 votes to decide winning products in 13 categories.
The MHS HC-Loop sorter is ideal for operations facing e-commerce challenges like massive order volumes and high package variety, handling everything from flats and bubble mailers to bagged items and corrugate cases. It uses an automatic centering system that precisely locates items in the middle of the conveying surface for consistent divert accuracy, enabling narrower divert chutes that enable greater sortation capacity while maintaining an efficient footprint.
"With parcel and e-commerce operations experiencing such extreme growth in order volumes, advanced sortation solutions are critical pieces to enable fast, efficient delivery," says Rush Fullerton, vice president, business development, MHS. "Our HC-Loop sorter is a solution designed for the needs of today's economy, and recognition from MHPN readers confirms that."
The sorter's modular design allows for layout flexibility and uses fewer components to simplify maintenance and improve reliability. It also features the new MHS linear induction motor that offers smooth, consistent operation for precise speed control and a long system lifespan.
About MHS
Founded in 1999, MHS Global is a full-service provider of innovative material handling systems that solve the challenges of distribution and fulfillment operations. We take a comprehensive, customer-centric approach that includes custom engineering, design, manufacturing and turnkey integration services. Our quality solutions leverage a broad range of controls and automated equipment, including but not limited to sorters, conveyors, extendable loading and unloading systems. We provide complete, responsive support to maintain systems for peak performance, with predictive analytics and local technicians to maximize long-term value and return on investment.
MHS has a global installed base of over $5 billion for small to large distribution and fulfillment projects in a variety of industries, including e-commerce, parcel, third party logistics and outside integrators.