Metal Powder Transfer System Safeguards Particle Shape for Consistent Part Quality in 3D Printing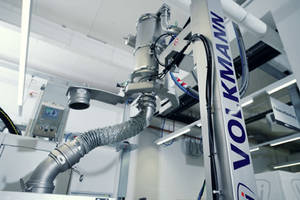 Bristol, PA: The PowTReX metal powder conveying system from 3D printing equipment manufacturer Volkmann USA, Bristol, PA (https://www.volkmannusa.com), gently and automatically transfers metal powders from a container or supply hopper directly to the 3D printer to safeguard the particle size and shape of the sensitive materials. Eliminating the potential for material degradation due to manual handling, the automated PowTReX system transfers the metal powders inside an enclosed pneumatic vacuum conveyor with a smooth, polished interior and minimal connections to prevent particle-wall and inter-particle collisions. As a result, the powdered feedstock continuously meets the required particle size, morphology, and purity upon entering the build box, melting proceeds consistently, and the completed 3D printed parts meet required quality specifications as standard procedure.
To be featured at RAPID+TCT booth #5056 in Chicago, IL, the PowTReX system is proven compatible with 3D printers from several manufacturers printing with tungsten, cobalt, silver powder, iron, stainless steel, alumina, nickel chrome, copper, titanium, carbide dust, corundum, and other metallic powders. The additive manufacturing equipment operates in normal air environments and an optional inert gas model operates safely in hazardous environments.
The PowTReX system is explosion-proof by design and may be customized to suit virtually any additive manufacturing process. To schedule a presentation at the booth or at the company's Bristol, PA test lab, email [email protected].
For more information, contact Volkmann, Inc., 1900 Frost Road Suite 102, Bristol, PA 19007; 609.265.0101; [email protected]; www.Volkmannusa.com.
Media Contacts:
David Nichols
+1-609-265-0101
[email protected]
Paul Entin
+1-908-479-4231
[email protected]