Metal-Era Reduces Lead Time on Perma-Tite Coping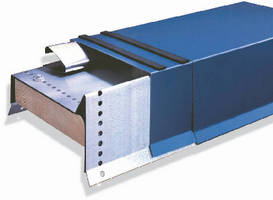 Waukesha, WI-Metal-Era, Inc., the national leader in commercial roof edge and roof ventilation solutions, announces that it has significantly reduced lead time on their popular Perma-Tite Coping system. It will now ship in five days when ordered in any one of Metal-Era's 15 express colors.

Metal-Era credits the quick turnaround times on Perma-Tite Coping to its lean manufacturing procedures, which have been aided considerably by last year's plant expansion.

"Our customers tell us that speed and quality are vital to the success of their business," says Tony Mallinger, Chief Operations Officer. "That's why we are constantly seeking ways to reduce lead times and build in performance on all of our product lines."

For more information about Metal-Era's Perma-Tite Coping, visit Metal-Era's website, www.metalera.com or call 800-558-2162.

About Metal-Era, Inc.

Celebrating its 30th year of unequaled service in the industry, Metal-Era provides a wide selection of engineered roof edge systems designed to meet the roofing industry's strictest standards. In 2006 Metal-Era introduced an innovative line of airflow products, to provide commercial buildings with proper intake and exhaust venting. Metal-Era employees and its nationwide network of over 350 experienced representatives and distributors are dedicated to providing superior products and personalized service. For more information about Metal-Era, visit www.metalera.com.

Related