Welding Rods, Wire and Electrodes
Metal-Cored Wires Offer Patented Technology to Reduce Costly Rework, Cleanup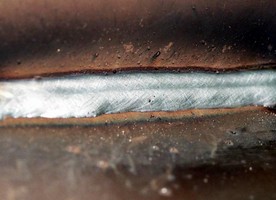 o Minimize island formation
o Improve wetting action and gap bridging
o Offer higher deposition rates and increased travel speeds

TROY, Ohio. February 26, 2008 - To help companies lower their overall welding costs, Hobart Brothers offers its Tri-Mark® Metalloy Vantage(TM) and Metalloy Vantage Ni1 gas-shielded metal-cored wires. The Vantage wires include patented technology that reduces silicon island formation and produces weld bead toe lines that are almost completely free of silicon deposits, both features that lessen costly rework and cleanup.

The Vantage wire is ideal for single- or multi-pass welding on carbon steel applications, including those in the railcar, automotive, heavy equipment manufacturing, and general fabrication industries. The Vantage Ni1 wire is designed for welding nickel-molybdenum steel. It particularly excels on applications that require higher toughness when joining HSLA (high strength low alloy) or weathering steels where color match is not necessary. These include applications in the structural steel market and the manufacturing of large light and electric transmission poles.

Patented Formula Reduces Cleanup, Cost
Due to their patented technology, both Vantage wires provide weld bead faces and toe lines that are virtually free of silicon island deposits. The Vantage wires also create low spatter levels, which further helps save time and money by eliminating the need to clean prior to painting, coating or plating.

Available in a wide variety of packages and diameters, both Vantage wires offer additional features that minimize rework and cleanup, including improved wetting action, excellent gap bridging and good sidewall fusion. Increased travel speeds and high deposition rates also help improve productivity.

Both Vantage wires are recommended for single- and multi-pass welding in flat and horizontal positions using 75 to 95 percent Argon with a balance of CO2.

Hobart Brothers is dedicated to the highest level of Performance Welding(TM). For product spec sheets or to learn more about Hobart Brothers and Tri-Mark brand products, visit Hobartbrothers.com, call 1-800-424-1543, fax 1-800-541-6607, or write Hobart Brothers Company, 101 Trade Square East, Troy, OH 45373.

Hobart Brothers Company of Troy, Ohio, is a leading manufacturer of welding filler metals marketed under the brand names Hobart, Tri-Mark, McKay and Corex. Hobart Brothers Company is a wholly owned subsidiary of Illinois Tool Works, Inc., Glenview, Ill., a diversified multinational manufacturer of highly engineered components, assemblies and systems.


More from Electrical Equipment & Systems