Mcdermott Announces First Fire at Calpine's York 2 Energy Center Combined-Cycle Power Station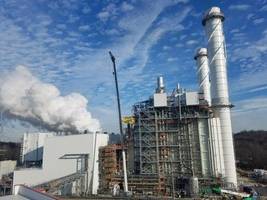 Units 5 and 6 achieve first fire, putting 828-megawatt power plant on the grid
Milestone demonstrates McDermott's capabilities in the power industry
McDermott plans for substantial project completion in Q1 2019
Houston, Dec. 21, 2018 /Prnewswire/ -- McDermott International, Inc. (NYSE: MDR) announced today that it successfully achieved first fire of units 5 and 6 and steam blows at Calpine's York 2 Energy Center, a combined-cycle gas power station in Peach Bottom Township, Pennsylvania.
First fire and steam blows are critical milestones for the power plant as it validates the operability of the new facility. As a result of this milestone, units 5 and 6 are generating power for one of America's largest generators of electricity from natural gas and geothermal resources.
"As we mark this project milestone, we are one step closer to delivering a world-class power project for Calpine," said Richard Heo, McDermott's Senior Vice President for North, Central and South America. "This combined-cycle project is an excellent example of McDermott's experience and comprehensive capabilities in providing vertically-integrated solutions for leading power companies in the U.S."
The York 2 Energy Center project is an 828-megawatt, dual-fueled, combined-cycle gas turbine power station owned by Calpine Mid-Merit, LLC, an affiliate of Calpine Corp. McDermott was awarded the engineering, procurement and construction contract in 2014.
The start-up team will continue with commissioning activities and expects to achieve substantial completion in Q1 2019, as previously announced.
About McDermott
McDermott is a premier, fully integrated provider of technology, engineering and construction solutions to the energy industry. For more than a century, customers have trusted McDermott to design and build end-to-end infrastructure and technology solutions to transport and transform oil and gas into the products the world needs today. Our proprietary technologies, integrated expertise and comprehensive solutions deliver certainty, innovation and added value to energy projects around the world. Customers rely on McDermott to deliver certainty to the most complex projects, from concept to commissioning. It is called the "One McDermott Way." Operating in over 54 countries, McDermott's locally focused and globally-integrated resources include approximately 40,000 employees, a diversified fleet of specialty marine construction vessels and fabrication facilities around the world. As used in this press release, McDermott includes McDermott International, Inc. and its subsidiaries and affiliates. To learn more, visit www.mcdermott.com.
Source McDermott International, Inc.
Web Site: http://www.mcdermott.com
Contacts:
Investor Relations
Scott Lamb
Vice President, Investor Relations
+1-832-513-1068
Global Media Relations
Gentry Brann
Global Vice President, Communications
+1-281-870-5269
More from Mechanical Power Transmission