Mazak to Demonstrate Over 30 Advanced Machining Systems at DISCOVER 2019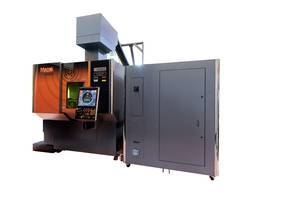 Florence, Ky., July 29, 2019 – At DISCOVER 2019, the industry's largest private-sector manufacturing education and technology event, Mazak Corporation will demonstrate more than 30 manufacturing systems ranging from cost-efficient turning and milling solutions to state-of-the-art HYBRID technologies that allow manufacturers to reimagine part-production operations altogether. Visitors to the event will also experience the full line of automation solutions available for Mazak equipment, as well as the latest productivity-enhancing SMOOTH TECHNOLOGY digital tools. DISCOVER 2019 takes place at Mazak's North American Manufacturing Headquarters in Florence, Kentucky, November 5-7 and 12-13. 
Horizontal Milling
Headlining the category of horizontal mills is the HCN-5000, which brings unsurpassed performance, precision, reliability and production value to the high-volume production of large, heavy parts. In addition to a wide range of optional spindle types and power options, the machine is available with Mazak's Multi-Pallet Pool (MPP) System, a compact multiple pallet stocker system ideal for manufacturers that require basic automation to increase productivity and/or have limited floor space that prevents the installation of a system with a horizontal pallet stocker.
In addition to the HCN-5000 with MPP, horizontal milling centers on display at the show will include the HC-5000 and the HCN-6800.
Vertical Milling
Mazak's complete range of vertical milling solutions will be represented at DISCOVER 2019, including the VCN-570C, a vertical machining center that brings advanced technology, performance and value to an expansive variety of metalcutting applications with its robust 30 hp, 15,000 rpm standard spindle. The machine will be demonstrated alongside a RoboJob part-loading system, a simple and reliable way to significantly reduce setup time and ensure the highest repeatability and accuracy for machining operations.
In addition to the VCN-570C with RoboJob loader, vertical milling solutions at the show will include the FJV-35/80, VC-300A, VC-500C/2PC, VCN-575C and VTC-200C Vertical Machining Centers. 
Turning
The star of the turning machines that will appear at DISCOVER 2019 is the QTU-350 HP with RoboJob. In addition to the attached automation system, the QTU-350 HP allows shops to have Mazak quality at an affordable price point. This made-in-Kentucky machine offers advanced technology, unmatched productivity advantages and cost effectiveness for shops of all sizes. For greater levels of process versatility, the machine also features a powerful high-performance spindle package (HP) with a 30 hp, 3,500 rpm turning spindle.
Joining the QTU-350 HP with RoboJob will be the MEGA TURN 900M and QUICK TURN 450.
5-Axis
The simple but innovative headliner among Mazak's 5-axis machines, the VC-500A/5X is a Kentucky-built vertical machining center with a trunnion-style rotary/tilt table that allows for the accurate, cost-effective processing of small complex parts via full 5-axis machining. The machine comes standard equipped with a robust, high-performance spindle that delivers exceptional metal removal capabilities in all common materials, including steel, aluminum and cast iron. Optional spindle speeds are available to address a variety of part production requirements.
Mazak will demonstrate several 5-axis machining centers at DISCOVER 2019 in addition to the VC-500A/5X, including the HCR-5000, UD-400/5X, VARIAXIS i-800 and VTC-800/30 SR 5-Axis Machining Centers.
Multi-Tasking
Mazak will include several Multi-Tasking machines in the demonstrations taking place during DISCOVER 2019. The famed INTEGREX Series will be represented by several advanced models sporting the latest technology, including an INTEGREX I-300ST with the new Spindle Health Monitor and the INTEGREX i-400S with the company's latest control technology, the MAZATROL SmoothAI CNC. Machines will also include numerous automation solutions, such as the GR100 gantry loader paired with the QUICK TURN 250MSY, an outstanding turning center with additional milling spindle, second turning spindle and Y-axis off-centerline machining capabilities for true DONE IN ONE® Multi-Tasking.
The full list of Multi-Tasking machines that will appear at the show includes the HQR-250MSY, INTEGREX i-100 BARTAC-S, INTEGREX i-300ST with Spindle Health Monitor, INTEGREX i-400S with SmoothAI CNC, INTEGREX i-400ST, INTEGREX i-500W, MULTIPLEX W-200Y, QUICK TURN 200MSY, QUICK TURN 250MSY with GR100, QUICK TURN 550MY and SQR 250. 
HYBRID Multi-Tasking
As Mazak's newest line of revolutionary manufacturing technology, each of the HYBRID Multi-Tasking machines at DISCOVER 2019 will have an example of a cutting-edge manufacturing technique paired with Mazak machines and their renowned subtractive capabilities. Auto Gear (AG), which leverages advanced manufacturing technology and the SMOOTH Gear Cutting software suite for unsurpassed gear hobbing, skiving and milling ease, will appear on the INTEGREX i-200ST AG.
For additive manufacturing (AM) capabilities, Mazak will spotlight both versions of its VC-500A/5X AM. The first includes exceptional multi-laser metal deposition technology made for complex part interiors, cladding operations and other fine AM work, while the second, the VC-500A/5X AM HWD, will demonstrate the power of the Hot Wire Deposition (HWD) system, which uses arc welding technology in combination with laser heating to maximize metal deposition for incredibly fast AM processes. Mazak will also demonstrate the Friction Stir Welding (FSW) capabilities of its VTC-300C FSW – a complete closed-loop FSW process that allows for both low-temp and high-temp frictional welds, as well as joining dissimilar materials for significant lightweighting possibilities. 
About Mazak Corporation
Mazak Corporation is a leader in the design and manufacture of productive machine tool solutions. Committed to being a partner to customers with innovative technology, its world-class facility in Florence, Kentucky produces over 100 models of turning centers, Multi-Tasking machines and vertical machining centers, including 5-axis models. Continuously investing in manufacturing technology allows the Mazak iSMART Factory™ to be the most advanced and efficient in the industry, providing high-quality and reliable products. Mazak maintains eight Technology Centers across North America to provide local hands-on applications, service and sales support to customers. For more information on Mazak's products and solutions, visit www.MazakUSA.com or follow us on Twitter and Facebook.
Media Contacts:
Mazak Corporation
Chuck Birkle
Vice President, Sales and Marketing
859.342.1641
or
cbirkle@mazakcorp.com
dgs Marketing Engineers®
Chuck Bates
Vice President
317.813.2230
bates@dgsmarketing.com