Make Data Centers More Energy Efficient with Low Contact Resistance Connectors from Stäubli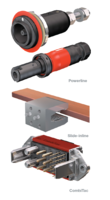 Safe and reliable connector solutions from Stäubli Electrical Connectors.
With an increasing trend in the number and size of data centers, the call for energy efficiency gets louder. That means data center components need to be more energy efficient and increase use of power sources with a small carbon footprint such as solar or wind power. Equipment needs to be safe, reliable and designed for quick replacement.
Are you looking for safe and reliable connector solutions that will help to lower down times of your data center and make it more energy efficient?
We offer innovative connector solutions featuring low contact resistance and very little power loss:
Powerline
Insulated single power round connectors rated up to 1000 V / 1000 A with various termination options for power distribution.
Slide-inline
Fork connectors for busbar applications in server cabinets or overhead bus ways.
CombiTac
Modular connector with multiple options including power, signal, data and fluid connections. Ideal for rack systems and applications requiring liquid cooling.
Phone: +1 707 838 0530
Reliability in every detail
More from Agricultural & Farming Products