Make an Appointment Now to Meet with the Inspection Experts at Nordson DAGE during the IPC APEX EXPO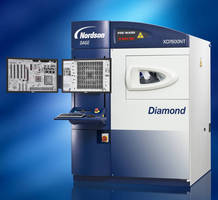 Aylesbury, Buckinghamshire, UK- Nordson DAGE, a division of Nordson Corporation (NASDAQ: NDSN), announces it will exhibit in Booth #2915 at the upcoming IPC APEX EXPO, scheduled to take place February 19-21, 2013 at the San Diego Convention Center in California. Attendees are encouraged to make an appointment and bring a sample to Nordson DAGE's inspection experts.

Featured at the show, the Nordson DAGE XD7600NT Diamond X-ray and XD7600NT Ruby X-ray are the ultimate flat panel inspection systems with QuickView CT. The inspection systems utilize the latest technology, flat panel detector and proven feature recognition capability to provide the ultimate choice for the highest quality in X-ray imaging on the market today. The unique Nordson DAGE NT maintenance-free, sealed transmissive X-ray tube, providing 0.1 µm feature recognition and up to 10 W of power, together with the 2 Mpixel XiDAT3 digital image detector makes both systems the choice for the highest performance and highest magnification imaging tasks.

The Nordson DAGE XD7600NT Diamond and Ruby inspection systems now feature the revolutionary new X-Plane(TM) option, which uses a proprietary, patent applied for, tomosynthesis, or CT technique to create 2D X-ray slices in any plane of a printed circuit board assembly (PCBA) without the need to cut the board.

To schedule an appointment, contact your local sales representative or e-mail dagesalesUS@nordsondage.com. For more information about Nordson DAGE, visit www.nordsondage.com.

About Nordson DAGE

Headquartered in Aylesbury, UK, Nordson DAGE is a unit of the Nordson Corporation and manufactures and supports a complete range of award winning digital X-ray inspection systems and bond test equipment for the printed circuit board assembly and semiconductor industries. For more information, visit www.nordsondage.com.

About Nordson Corporation

Nordson Corporation delivers precision technology solutions that help customers increase speed, productivity and up-time, enable new products and features, and decrease material usage. The company engineers, manufactures and markets differentiated products and systems used for dispensing adhesives, coatings, sealants, biomaterials and other materials, fluid management, testing and inspection, and UV curing and surface plasma treatment, all supported by application expertise and direct global sales and service. Nordson serves a wide variety of consumer non-durable, durable and technology end markets including packaging, nonwovens, electronics, medical, appliances, energy, transportation, building and construction, and general product assembly and finishing. Founded in 1954 and headquartered in Westlake, Ohio, the company has operations and support offices in more than 30 countries. Visit Nordson at www.nordson.com, twitter.com/Nordson_Corp, or Facebook.com/Nordson.

More from Communication Systems & Equipment