Magnetek Announces Over 1,000 Quattro® DC Elevator Drives Installed in Otis Projects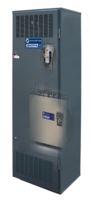 MENOMONEE FALLS, Wis. – November 30, 2017 – Magnetek, a leading designer and manufacturer of elevator drives, today announced the presentation of its "Quattro® 1000 Club" award to Otis Elevator Company. The award represents the 1,000th Magnetek Quattro energy saving elevator drive that Otis has utilized in elevator modernization projects.
The Quattro drive family, including the Quattro DC, Quattro AC, and Quattro AC Cube, offer proven energy savings, lower installation costs, and superior ride quality. Quattro AC Cube, the Company's latest Quattro product, is a fully integrated, compact regenerative drive that keeps harmonics low, eliminates the need for multiple external modules, and reduces costs for panel mounting and component wiring.
"We are privileged to work with our partner, Otis, and provide products like our Quattro drives that offer advanced energy savings, high reliability, and smooth ride quality, to their customers," said Ed Butte, director of Magnetek's elevator drives business.
For more information about Magnetek's family of Quattro drives or any of their energy regenerative elevator drives, visit www.elevatordrives.com.
About Magnetek
Magnetek, Inc. is a leading provider of Energy Engineered® digital power and motion control systems used in elevator, overhead material handling, and mining applications. The Company is the world's largest independent builder of highly integrated digital motion control systems for high-rise, high-speed elevators. Magnetek is North America's largest supplier of digital drive systems for industrial cranes, hoists, and monorails, and is a leading provider of radio remote controls, motors, braking and collision avoidance subsystems. Magnetek is also a leading independent supplier of digital motion control systems for underground coal mining applications. Headquartered in Menomonee Falls, Wis., in the greater Milwaukee area, Magnetek operates manufacturing facilities in Pittsburgh, Pa., as well as Menomonee Falls. Magnetek supports European, Middle Eastern, and African elevator drive sales from its office in Bedford, UK, and Asian sales from its office in Singapore.
Related