Low Thermal Transfer Feature of Zero-Max ServoClass® Couplings Helps Minimize System Misalignment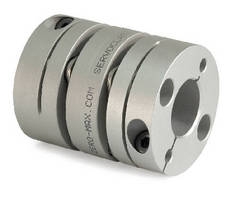 Plymouth, Minnesota: Design engineers looking to reduce heat transfer from servo
motors to driven shafts will find ServoClass® Couplings from Zero-Max an ideal solution.

The ServoClass coupling design minimizes heat transfer and reduces variations in
system accuracy caused by thermal expansion. The coupling features stainless steel discs designed into the center of the coupling that dissipate heat generated from a connected servo motor. By minimizing heat transmission to the connected shaft, thermal expansion is prevented.

ServoClass® Couplings from Zero-Max have low thermal transfer. Here's how: As servo motor speed increases (A) heat increases and is transmitted outward (B) to the connected ServoClass coupling. It dissipates heat that is transmitted (C)
downstream to the connected components.

With today's servo motor applications more demanding than ever, system accuracy is
critical to precision positioning. The ServoClass coupling, with this low thermal transfer design feature, helps ensure the required accuracy in these systems. ServoClass couplings also provide high torsional stiffness, zero backlash and low hysteresis, further ensuring repeatable precise positioning.

"Thermal transfer is a growing concern in servo motor system design," reports Robert
Mainz, Zero-Max sales manager. "ServoClass couplings provide a superior solution. As cycles become faster and heat is increased, especially in tightly enclosed designs, the ServoClass coupling minimizes heat transfer through the shaft components."

ServoClass coupling applications include automation, packaging, semi-conductor
assembly and virtually any system using ball screws and servo motors. Three new sizes have been added to the Zero-Max ServoClass coupling line. They handle bore diameters from 0.875 in. (20mm) to 1.378 in. (35mm) and operating torque from 3937 to 9843 in. lbs (100 to 250 Nm). Many additional sizes are available starting with the
smallest bore size 0.157 in. (4 mm) and larger.

All ServoClass couplings are manufactured of RoHS compliant materials. They are
lightweight and are designed with 304 stainless steel disc packs and 7075-T6 aluminum hubs and center members. They are available in single and double flex models in inch and metric sizes. All models and sizes feature clamp style hubs with corrosion resistant socket head cap screws.

Call 1-800-533-1731 for FREE brochure. Outside US and Canada call 763-546-4300.
Or go to www.zero-max.com for a PDF of the brochure. Download 2D and 3D CAD files.
Email: zero-max@zero-max.com. Or write to Zero-Max, 13200 Sixth Avenue North,
Plymouth, Minnesota 55441-5509. Fax: 763-546-8260.

More from Fluid & Gas Flow Equipment