Floor, Lift Truck and Conveyor Scales
Loma Systems® to Display Latest Inspection Technologies for The Bakery Sector at IBIE 2022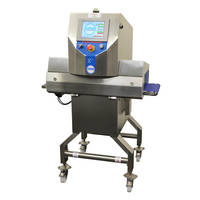 Check and Detect specialists, Loma Systems, will have some of the latest technologies in inspection on display at IBIE (International Baking Industry Exposition), held at the Las Vegas Convention Center, USA, on 17-20 Sep 22. IBIE is one of the world's largest and most comprehensive baking trade fairs, showcasing cutting-edge technologies, equipment and new products to baking professionals from across the globe. The event takes place every 3 years.
Exhibiting at booth #6808 (North Hall), the Loma team looks forward to meeting with customers and showcasing a variety of market-leading X-ray, metal detection and checkweighing systems, specifically designed to improve production quality control and compliance for the baking industry.
On show will be the IQ4 Metal Detector, designed to provide a fully-functional, adjustable metal detection conveyor solution. The system incorporates a 7" color touchscreen with a user-friendly interface that is designed to help make setup easier and reduce user errors. Loma's conveyor systems comply with strict international standards such as IFS, BRC and FSMA. They can also be supplied with "Higher Level Compliance" to meet the strictest of Retail Codes of Practice.
The innovative X5C Compact, Loma's smallest X-ray system, is ideal if the requirement is to detect more than metal. The X5C Compact detects all types of metal (i.e. stainless steel, ferrous and non-ferrous), bone, glass or dense plastics. The X5C Compact can be used for basic product integrity tests such as missing items, objective checking and fill level. It is especially good at inspecting products packaged in foil or heavy metalized film packaging and overcoming the problems with Ferrous in Foil metal detectors. This X-ray inspection system offers plug-and-play installation and software, reliable inspection and low ongoing running costs. The X5C is ideal for factories wanting to take the first step into using X-ray technology.
Loma's machines have been specially developed to withstand the harshest of production and cleaning environments. Additionally, IQ4 Metal Detectors are UL® Certified for Safety, providing an unbiased safety assurance to interested parties in the United States and Canada.
Visit here and use the discount code EXH6808 to save 20% in registering for the show.
For more information on the innovative and reliable equipment from Loma, stop by booth #6808 (North Hall) at IBIE at the Las Vegas Convention Center, Las Vegas, on 17-20 Sep 22.