Lockheed Martin Selects NH Research Test Solution for eCASS Program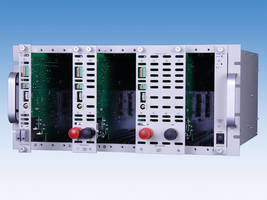 NH Research Model 4300 modular DC load solution to support U.S. Navy test systems
Irvine, Calif. - April 13, 2019 - PRLog -- NH Research Inc. (http://www.nhresearch.com) (NHR), a leading provider of power electronics test systems and instruments for the aerospace, defense, automotive, and energy industries, announces Lockheed Martin Rotary and Mission Systems has selected NHR's Model 4300 modular DC load solution for the electronic Consolidated Automated Support System (eCASS) program test systems to support the U.S. Navy.
NHR's 4300 modular DC electronic load subsystem has become a popular choice for aerospace and defense automated test equipment (ATE) systems where space, performance, and reliability are important. The 4300 platform provides six different load sizes and a digital power analyzer in a small footprint and can eliminate the need for additional relays and other test measurement devices. 
"NH Research has been working with Lockheed Martin on the original CASS program and now the eCASS for over 30 years," said Peter O'Brien, Vice President of Sales and Marketing at NH Research. "NH Research's proven 4300 platform, combined with our automated test systems experience, enables us to provide Lockheed Martin with reliable and cost effective solutions."
"The 4300 platform from NH Research provides us with the performance, reliability, and long-term support we need for the eCASS Program. ," said Ed Melville, Automated Test Systems Portfolio Manager at Lockheed Martin. "We look forward to working together in the future."
For more information about eCASS, visit www.lockheedmartin.com/eCASS
About NH Research
NH Research, Inc. (NHR) enables electrification by accelerating innovation, validation and functional testing of today's technologies. Backed by over 50 years of experience in power conversion and power electronics test systems and instruments, our test solutions deliver the performance, simplicity, and safety that engineers and researchers in aerospace, defense, automotive and energy industries require. For more information visit www.nhresearch.com.
About Lockheed Martin
Headquartered in Bethesda, Maryland, Lockheed Martin is a global security and aerospace company that employs approximately 105,000 people worldwide and is principally engaged in the research, design, development, manufacture, integration and sustainment of advanced technology systems, products and services.
Contact:
NH Research, Inc.
(949) 474-3900