Lochinvar® Announces Grand Prize Winner of Shield Promotion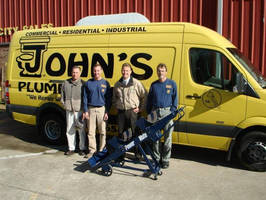 Brad Vines of John's Plumbing in Birmingham, Alabama Wins Grand Prize Drawing

LEBANON, TN - March 2010 - Lochinvar Corporation is pleased to announce the Grand Prize winner of its recent promotion surrounding the SHIELD Commercial Water Heater. The promotion, which ran from June through December 2009, invited contractors to receive a $50 rebate for every SHIELD Commercial Water Heater they installed; upon registering for the rebate at shield.lochinvar.com, each participant was then entered into a Grand Prize Drawing. Randomly selected as the winner of the Grand Prize, Brad Vines, president and owner of John's Plumbing in Birmingham, AL, received a PowerMate Stair Climbing System, which is valued at more than $4,000 and designed to provide a smart, cost-effective and safe way to move heavy products.

John's Plumbing has been servicing residential and commercial customers in Birmingham and surrounding areas since 1984. Founded by Vines' father, John Vines, the company has grown from its humble beginning with just one employee and one truck to 25 employees and 12 trucks today. Vines attributes much of the company's success to their slogan, "We Repair What Your Husband Fixed," which he has found to be a big hit with area homeowners, helping to keep John's Plumbing top of mind for any plumbing service.

"Our goal is to continue to serve Birmingham with the highest quality plumbing and customer service available," stated Vines. "Therefore, we depend on efficient and dependable products such as Lochinvar water heaters, because the products we install represent who we are. Thank you, Lochinvar, for helping us to achieve our goal."

With inputs up to 500,000 Btu/hr, 96 percent thermal efficiency and storage up to 125 gallons, SHIELD has everything it takes to provide the ultimate green operation - without the risk of lime scale buildup inside the tank. For more information, visit shield.lochinvar.com.

Lochinvar Corporation is a leading manufacturer of high-efficiency water heaters, boilers, pool heaters and storage tanks. Based in Lebanon, TN with facilities in Detroit, Orlando, Tampa, Pompano Beach and Dallas, Lochinvar stocks all products in all locations.

For more information about Lochinvar, contact:

Lochinvar Corp.,

300 Maddox Simpson Parkway,

Lebanon, TN 37090;

Phone: (615) 889-8900;

Fax: (615) 547-1000;

www.Lochinvar.com.

More from Chemicals & Gases