Sensors / Detectors / Transducers
Loadstar Sensors Receives Frost & Sullivan Product Innovation Award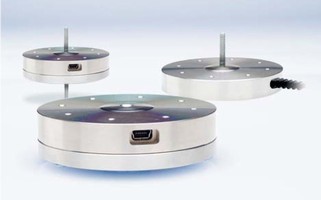 Loadstar Sensors, Inc. of Mountain View is pleased to announce that it has received The Frost & Sullivan 2007 North American Product Innovation of the Year Award for its iLoad Series capacitive load sensors.

"Loadstar Sensors' capacitive sensing technology is helping to spearhead a new era of opportunities in load/force sensing. By integrating sensing, signal processing, and communications in a single package, Loadstar's sensors can significantly reduce the complexity of designing and incorporating such sensors into computerized measurement and control applications," said Peter Adrian, of Frost & Sullivan.

The iLoad Digital USB sensor is the world's first capacitive load sensor with USB output. These load sensors are designed to plug directly into the USB port of a PC and enable users to measure loads, forces or weights without need for any additional signal conditioning, data acquisition or special software!

"We are happy to receive recognition from Frost & Sullivan for the innovations we are bringing to the load sensor market. I am happy to receive this award on behalf of Loadstar's talented and dedicated team that has developed this elegant new technology. In particular, we want to thank the many early customers and partners
who provided encouragement and feedback during the development process and our investors who have placed their faith in our abilities," said Div Harish, the Co-Founder and CEO of Loadstar Sensors.

The iLoad Series is available immediately in 10, 50, 100, 250 and 500 lb capacities to measure both compressive and tensile loads and offer accuracies of 0.25% to 0.025% of full scale loads. Higher capacities up to 15,000 lbs are expected to be released in the coming months but are available earlier as a special order. Furthermore, temperature compensation schemes are built-in for temperatures ranging between -10C to 40C in order to be accurate in most operating conditions with a "tare". These sensors are attractively priced and come with a 30 day money back guarantee to allow inventors, engineers, product designers, students and researchers to try out our innovative new products and experience the dramatic difference first hand!

Key features of the iLoad Series include:
o Flexible output options-either Digital USB or Analog 0-5V DC
o Integrated signal conditioning
o Accuracies from 0.25% FS to 0.025% FS
o Tensile and compressive measurements
o Rugged low profile, stainless steel (17-4 PH) package
o Easy mounting with threaded holes or studs
o Attractively priced in either single piece or OEM quantities.

About Loadstar Sensors, Inc.
Established in 2004, Loadstar Sensors, Inc. is a leader in the design and manufacture of capacitive sensors for automotive, aerospace, medical device, industrial and consumer applications. We currently sell capacitive load (force/weight) sensors that offer high sensitivities in an easy to use, mechanically robust, low profile package. We partner with leading OEMs to incorporate load sensors into mass market products where existing load measurement solutions were neither reliable nor economically feasible. For more information, please visit www.loadstarsensors.com or call 650-938-4282.

For more information about Frost & Sullivan's Best Practices Awards, please visit www.awards.frost.com. You can read the award citation here.


More from Agricultural & Farming Products