Lista International Rolls-Out Innovative, New Suspension System For Drawer Cabinets At IMTS 2008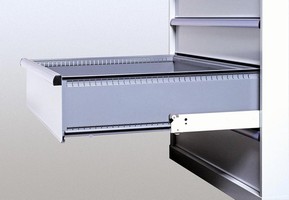 Lista International will showcase its exclusive, new suspension system for its modular storage drawer cabinets and Storage Wall® systems at the International Manufacturing Technology Show (IMTS), booth #F-2719, September 8-13, 2008 at McCormick Place in Chicago, Illinois. Lista drawers are unique in the industry, with outstanding capacity and durability that is the direct result of superior engineering and construction. The drawers now feature an innovative suspension system which ensures the smoothest and quietest operation-even when fully loaded.

The new suspension system incorporates a guide track that wraps under the drawer body for added stability and strength. This unique system features quiet Polyoxymethylene (POM) bearings, combining strength, hardness, dimensional stability, fatigue resistance, low wear and low friction.

All Lista drawers and roll-out trays extend 100% from the cabinet housing, allowing easy, ergonomic access to the entire contents, even in the farthest corners. Lista drawers are now available in two full-extension weight capacities: 440 lbs and 165 lbs (depending on drawer size). All four sides of Lista drawers are fully reinforced for maximum integrity. The system features full-height-sidewall drawers for maximum storage capacity, as well as a one-piece drawer face and handle for enhanced durability and safety.

The unequalled performance of Lista drawers has been tested against the RAL-RG 614 standard of the German Institute of Quality Assurance, a globally respected standard. This test required the drawers to pass a series of difficult test criteria. The Lista drawers excelled in these demanding tests. Both suspensions were tested and exceeded the required number of cycles without diminished performance.

To find out more about Lista's unique drawer construction and suspension systems, call or write for a free color brochure: Lista International Corporation, 106 Lowland Street, Holliston, MA 01746; TEL 1-800-722-3020; FAX 508-626-0353; email sales@listaintl.com. Visit Lista's web site at www.listaintl.com.

Please send all sales leads to Louise Johnson, Director of Operations, Pivot Marketing Data Services, 113 Tiogue Ave., Coventry, RI 02816 USA; Phone: 401-586-6422; Fax: 401-586-6425; Email: listainfo@pivot-mds.com. Thank you.


More from Machinery & Machining Tools