Lista International Corporation Showcases CNC Tool Storage Cabinets And Transporters At EASTEC 2009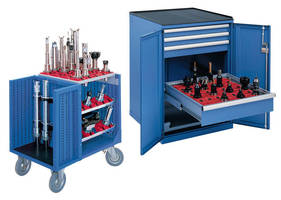 Lista International Corporation will showcase its heavy duty CNC Tool Storage Cabinets and Transporters, which form the core of the most complete storage system for the modern machining center, at EASTEC 2009, May 19-21, at the Eastern States Exposition in West Springfield, Massachusetts, in booth #5504.

Available in a variety of sizes, heights and drawer configurations, the Storage Cabinets are equipped with tool holder frames and Lista Tool Holders to accommodate a variety of standard-sized CNC tool holders. The modular design of the cabinets allows the drawers and roll-out trays, which each have a 440 lb. load capacity, to be easily reconfigured for changing needs. Lockable doors on the cabinets protect valuable tools.

Lista's Tool Transporters feature a rigid steel frame and steel sheet side panels slotted at 1" intervals to accommodate trays, frames, shelves and other accessories. Each Transporter has a 2400 lb. capacity. Fully loaded Transporters and Cabinets can be safely and securely moved by fork lift.

The basic components of the Lista CNC storage system are Lista Tool Holders, a technically perfect solution to vertical storage of pre-set tools. Each Lista Tool Holder is molded from ABS high impact and oil-resistant plastic, so it conforms to the shank of the tool holder, protecting it from damage. The Lista Tool Holders, which provide great stability for a wide range of straight and tapered shank tools, are ideal for mobile applications and all types of pre-set tool handling.

To find out more about Lista's CNC Tool Storage Cabinets and Transporters, call or write: Lista International Corporation, 106 Lowland Street, Holliston, MA 01746; TEL 1-800-722-3020; FAX 508-626-0353; EMAIL sales@listaintl.com. Visit Lista's web site at www.listaintl.com.

More from Material Processing