LinMot Short Motors in Stainless Steel Design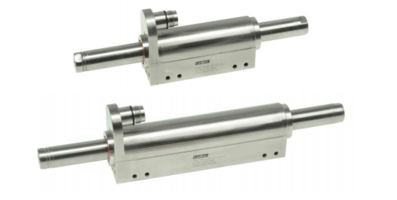 Engineers now have two additional options within the LinMot stainless steel product family. With the PS01-37Sx60F-HP-SSC and the PS01-37Sx120F-HP-SSC, LinMot expands its stainless-steel series with short linear motors. The addition of the stainless-steel option allows for use in food processing machines and plants and for operation in the pharmaceutical industry. These motors can easily cope with extremely rough or corrosion-prone environments and can be cleaned with all standard industry cleaning agents with confidence. If the connection of a water-cooling system is not desired or necessary, these new stainless-steel short motors can be particularly impressive. The thermal dissipation of these motor has been significantly improved by calculated adaptations in the design. The integrated mounting flange allows flexible mounting in several positions and provides the necessary surface area for efficient heat dissipation. In addition, the increased diameter of the slider used with these motors results in an increase in the performance data in terms of peak and continuous force. At the same time, the stators with a total length of 120 mm or 180 mm are among the most compact representatives in the stainless-steel series.
In order to eliminate the formation of water condensation in the motor, the motor housing was poured out under vacuum. This keeps the stator free of any air pockets, in which condensation could form as a result of changing temperatures. When it comes to motor maintenance, the user benefits from the modular design of the motors, in which the bearing can be replaced very easily. The plain bearing material used is also specially designed for the food and pharmaceutical industries and is FDA-approved.
For the construction of a complete linear guide unit, LinMot simultaneously offers the appropriate stainlesssteel guide. They offer high guiding accuracy and enable dynamic and precise positioning of the load.
Both stator types can be ordered beginning in 2020. Subsequently, two variants of the PS01-48 motor will also be launched on the market during the year.
Contacts:
LinMot USA
LinMot USA, Inc.
N1922 State Road 120, Unit 1
Wl, 53147, Lake Geneva
USA
Tel: +1-262-743-2555
Web: www.linmot.com
Email: [email protected]
LinMot Europe
NTI AG - LinMot & MagSpring
Bodenaeckerstrasse 2
CH-8957
Spreitenbach
Schweiz
Tel.: +41(0)56 419 9191
Fax: +41 (0)56 419 91 92
Email: [email protected]